This Influencer Granny Is Selling Anti-Aging Boob Masks And We'll Take A Dozen
by Valerie Williams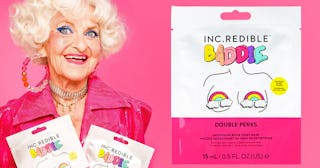 baddiewinkle/Instagram
Baddie Winkle's cosmetic line includes anti-aging boob masks and we want some immediately
If you're not already following 90-year-old beauty influencer grandma Baddie Winkle on Instagram, kindly correct that right this minute. Then, understand that she's doing her best to keep us all looking as hot and ageless as she does, because she's now selling anti-aging boob masks and please take all our money.
Baddie is a beyond popular Instagram presence, and it's so easy to see why. She's gorgeous, funny, inclusive, brilliant, and if her brightly-colored feed of adorable photos doesn't cheer you up, then nothing will.
Now, she's offering us the chance to tighten up our tata area and on top of looking amazing, we will be supporting a great cause. During the month of June (Pride month!) five percent of proceeds from her anti-aging boob masks (called Double Perks) will go to the Trevor Project, an organization that provides "crisis intervention and suicide prevention services to lesbian, gay, bisexual, transgender, queer & questioning (LGBTQ) young people under 25."
Like we said — we'll buy a dozen.
The masks are $9, and happily, they're not the only beautifying product Baddie has blessed us with. She has a line of cosmetics called "No Bad Days" for INC.redible Cosmetics, all available exclusively at Sephora. Baddie has a highlighter you'll want to wear every single day of your life and a vitamin B12-infused rollerball lip gloss that's bound to become a daily essential in your cosmetic bag.
We love that Baddie is bringing her message of loving yourself, being inclusive, and looking completely amazing to her 3.8 million Instagram followers. She's living proof that age means absolutely nothing when your literal soul is shining from within. Oh, and if you have "rules" about what age is ok to wear certain outfits? Allow her to prove you completely freaking wrong.
She crushes every look.
And keeps things extremely real (and hilarious).
A gorgeous granny who swears, supports great causes, and wants us to have tight upper boob skin? Yes please, every single day.