This Young Woman Wrote Her Own Obituary And It Will Remind You To LIVE
by Cassandra Stone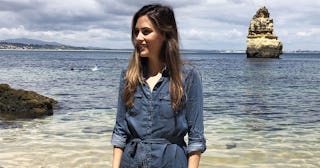 Bailey Jean Matheson via Instagram
"35 years may not seem long, but damn it was good!"
So begins the now-viral obituary for Bailey Matheson, a 35-year-old woman who died on April 5th from a two-year battle with cancer. Though she knew she was going to die young, she wrote her own obituary with fervor, love, and a passion for the life she lived — and it's resonating with so many people.
"Don't take the small stuff so seriously and live a little," Matheson urges others in her final send-off, where she acknowledged all the people she loved most throughout her life and her diagnosis. She thanked her parents for giving her "the greatest gift" by supporting her decision to refuse chemotherapy, because she wanted to live her life the way she wanted to live her life in the end. "I always remember my mom saying losing a child would be the hardest loss a parent could go through. My parents gave me the greatest gift of supporting my decisions with not going through chemo and just letting me live the rest of my life the way I believed it should be. I know how hard that must have been watching me stop treatment and letting nature take its course. I love you both even more for this."
According to TODAY, Matheson lived a healthy and active life until she began complaining of stomach pain. Doctors were initially unable to diagnose her based on her symptoms, but through an eventual ultrasound and biopsy, they were able to determine it was leiomyosarcoma, a rare cancer that affects smooth muscle tissue.
After a round of radiation failed to shrink her tumor, another surgery was deemed too risky to endure. Chemotherapy was offered as an option, but knowing she was given two years to live and that it likely wouldn't have saved her life, Matheson ultimately decided to forego it and the side effects that come along with it so she could enjoy what remained of her life.
In her obituary, she thanked her friends for being her pseudo-siblings, as she was an only child. "I never thought I could love my friends more than I did but going through this and having your unconditional love and support you have made something that is normally so hard, more bearable and peaceful."
She also thanked her boyfriend, Brent Andrews, who she says came into her life just three months before her terminal diagnosis. "To my Brent… you had no idea what you were getting yourself into when you swiped right that day," she wrote. "I couldn't have asked for a better man to be by my side for all the adventures, appointments, laughs, cries and breakdowns. You are an amazing person and anyone in your life is so fortunate to know you. I love you beyond words."
During the last two years of her life, Matheson, who was from Novia Scotia, decided to check some things off her bucket list. Andrews tells TODAY she traveled to 13 countries: parts of the U.S., Ireland, England, Norway, Croatia, Montenegro, St. Lucia, Mexico, France, Morocco, Greece, Portugal and Spain. She saw Coldplay, her favorite band, in concert twice.
And, as only a 35-year-old woman who was given precious little time to gain perspective can, Matheson ended her obituary with a good reminder for us all: "Don't take the small stuff so seriously and live a little."