Disneyland Is Getting A Brewery Making It The Actual Happiest Place On Earth
by Mike Julianelle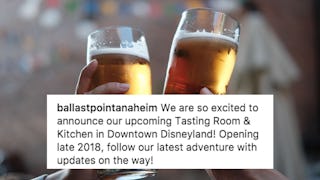 Image via Ole Spata / EyeEm
Beer + Disney = Parental Paradise
Despite those people who remain Disney-obsessed well into adulthood, Disneyland is for children. The tea cups, the wandering characters, the cotton candy and Mickey Mouse ears and popcorn and hours and hours of lines; those things are a young child's game, and parents are simply along for the rides.
Disneyland in Anaheim, California is adding a little something to help ease parents' pain.
San Diego area beer company Ballast Point will be opening Disneyland's on the amusement park's property, joining NYC's Black Tap Craft Burgers & Beer that will also open later this year.
The Ballast Point location will be 7,300 square feet of adult nirvana, featuring the popular breweries signature beers, such as their Sculpin IPA, the Commodore American Stout, the Dorado, and more, as well as special exclusive beers that will only be available at Disneyland.
The brewery will be located in the Downtown Disney section of Disneyland, and will serve a tasting menu that leans on the brewery's San Diego roots with menu items inspired by the region.
Ballast Point Brewing's president, Marty Birkel, shared a statement about the news. "As one of Southern California's premier brewers, for the team at Ballast Point, we couldn't be more honored to work with such an icon in our great state and become the first brewer at Downtown Disney. We hope SoCal locals and visitors alike will enjoy the wonderful atmosphere, seasonal cuisine, and good cheer (and beer) of our signature tap room experience that we plan to bring to Downtown Disney."
The Disneyland brewery will be Ballast Point's seventh California-based spot.
This isn't the first time Disney has added adult beverages to one of their locations. It seems Disney has realized that booze makes stressed out and exhausted parents happy, and that happy parents are way more on-brand.
In 2017 they added frozen wine slushies to the menu at Disney Springs, the outdoor shopping and dining resort near Disney World in Orlando, Florida. They even let you take it in to-go cups — it's like spring break for the middle-aged.
Suddenly, planning a bank-breaking trip to an amusement park where I can get heatstroke standing in line for two hours just to throw my back out on a ride my 7-year-old demanded we go on for the third time sounds pretty appealing!