Baltimore Sun Writes Scathing Response To Trump Calling City 'Rat-Infested'
by Cassandra Stone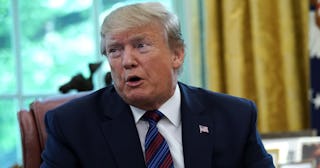 Alex Wong/Getty
After Trump called Baltimore 'filthy' and 'rat-infested,' the newspaper delivered a fiery response
The Baltimore Sun has issued a scathing, fiery, absolutely brilliant response to Trump's latest racist comments. Yesterday, Trump took to Twitter (because of course he did) to disgrace Maryland Rep. Elijah Cummings by calling the city of Baltimore "filthy" and a "disgusting, rat and rodent infested mess."
Here are the poorly worded and grammatically incorrect tweets in question:
Trump has a pattern of using words like "infested" to describe places he believes black and brown people should "go back to" as evidenced by his recent racist tirade against four congresswomen — though that's hardly the first time he's done it.
In regard to the city of Baltimore, however, the Sun makes it clear they're absolutely not having it. The op-ed, written by the paper's editors, points out the president's hypocrisy — among other things.
"Mr. Trump sees attacking African American members of Congress as good politics, as it both warms the cockles of the white supremacists who love him," the editors write. "President Trump bad-mouthed Baltimore in order to make a point that the border camps are "clean, efficient & well run," which, of course, they are not — unless you are fine with all the overcrowding, squalor, cages and deprivation to be found in what the Department of Homeland Security's own inspector-general recently called 'a ticking time bomb.'"
The paper also pointed out that Trump will happily "debase himself" at the "slightest provocation," which we've all seen time and time again since he took office in January 2017 (and, arguably, for a long time before that).
The best part of the op-ed is the final paragraph, which is just so furiously perfect it deserves a Pulitzer all on its own:
"…We would tell the most dishonest man to ever occupy the Oval Office, the mocker of war heroes, the gleeful grabber of women's private parts, the serial bankrupter of businesses, the useful idiot of Vladimir Putin and the guy who insisted there are "good people" among murderous neo-Nazis that he's still not fooling most Americans into believing he's even slightly competent in his current post. Or that he possesses a scintilla of integrity. Better to have some vermin living in your neighborhood than to be one."
WHEW.
Plenty of other people — many of them from Baltimore — came out in staunch defense of the city after the seemingly random rant. In an emotional, must-watch segment, CNN anchor Victor Blackwell tells Trump the people who live in Baltimore are citizens of this country, too.
"People get up and go to work there. They care for their families there," Blackwell said. "They love their children who pledge allegiance to the flag just like people who live in districts of congressmen who support you, sir."
The office of the President of the United States is supposed to represent every single person from every part of this country. To call out individual politicians and cities in the manner Trump does — in the form of racist, illogical rants — just further proves The Baltimore Sun editors right.