Banana Clips Are Cool Again, And It's About Time
by Julie Scagell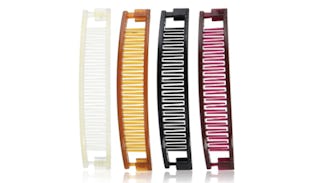 Image via Amazon
The banana clip is making a comeback on the runways during New York Fashion Week
Banana clips are cool again. I repeat, banana clips are back in fashion. All hail Madonna circa Desperately Seeking Susan, apparently all that was lost has once again been found. And it comes in glorious, florescent plastic.
The elusive clip hasn't been seen in the wild (save for a brief sighting on Michelle Duggar) since the late eighties and early nineties. But guess what, folks? We're calling' it a comeback — and one of epic proportion — now that it has been seen in mainstream society in recent months. OK fine, mostly during New York Fashion Week but whatever, we'll take it.
https://www.instagram.com/p/BflkV_eFhjw/?tagged=bananaclip
Designer Alexander Wang brought back the clip this year during his 2018 fall show and we are all here for it. The throwback hair accessory, given its name for its shape, allowed us to rock a ponytail-like hairdo, but with dramatic feathered sides. The clip, with all its banana-like glory, followed the contour of your head, leaving even the thinnest of coifs looking luxurious.
https://www.instagram.com/p/BfvaBjmlDNV/?tagged=bananaclip
Wang is calling it a "hair claw" but whatever — long live the clip.
Hairstylist Guido Palau explained, "The hair is a take on how it was set in the 80's. The idea is she is sort of corporate, smart, and Alex has done this take on the ironic banana clip of that period. I want it to feel very dynamic and tough. I love the way that something is reintroduced into fashion; we at look at it again in a different way."
The horse mane that was created from the banana clip, along with frosted blue eye shadow and shoulder pads, made a statement in the eighties and nineties, dammit. And that statement was, "We're badasses and this thing makes us look like we have a lot more hair than we actually have."
As with most fashion statements, if you wait long enough they will always come back around. And while most of us Madonna-wanna-be's are now suburban moms, we can still rock a banana clip if we want to. And OMG do we want to.
https://www.instagram.com/p/BfyW3hWjmJA/?tagged=bananaclip
Mother of two and actress, Kristen Bell, looked stunning in one late last year when she made an appearance on Jimmy Kimmel Live. Celebrity hairstylist Christime Symonds captured the look, posting it on her Instagram page. "Yes, that's a banana clip making @kristenanniebell's pony tail game strong to very strong," she wrote.
Luckily, the plastic gems are fairly cheap if anyone wants to try them out to see how they will look 20 years later in our glorious, albeit slightly greying hair.
I, for one, am game and would like one in every color.
This article was originally published on