Ban.do Is A Treasure, And I Feel The Need To Spread The Word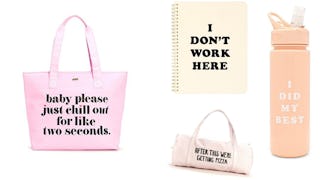 Amazon
Ban.do is the brand you may never have heard of, but you probably need in your life.
My late-night scrolling sessions rarely yield productive results. I often end up buying random things I think we can't live without, like a horse head squirrel feeder or 3-foot Snickers bar, then I'm stupefied when they arrive. Like, yes, these are awesome, but when did I order them and what was my thought process?
Ban.do is a treasure though. Fun, cheery, and guaranteed to make you smile. I kept landing on their stuff while searching for various gifts and trying to justify the purchase for the gift recipient and myself. I mean, as moms, we are constantly being told we need to treat ourselves and practice a little self-care, right? Right. So, I'll take two, please.
From stationary to gym bags, they have you covered. Check it out.
Quite possibly the best gym (or carry-on) bag of all time:
Also, quite possibly the best cooler tote (summer is coming!) of all time:
We are all busy, so we might as well let the world know as we sip our iced coffee from the park bench:
We're also just doing our best, and likely toting around a bottle of water at all times, so we might as well let the world know that too:
And for those endless summer to-do lists from what to pack for sleepaway camp to what store has the best sale on popsicles (for the kids) and booze (for the parents):
If you're like me, and you enjoy late-night scroll shopping, or you are looking to treat yourself (or a friend), I feel like you can't go wrong here. We all could use a little more pizazz, right? And pizza. Pizazz and pizza. Okay, after this I'm definitely getting pizza (and that tote bag).
This post contains affiliate links, which means we receive a small portion of the sale if you make a purchase using these links.
This article was originally published on