Wisconsin High Schools Students Pose Doing Nazi Salute In Prom Photo
by Julie Scagell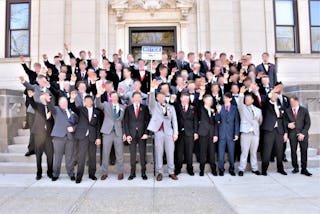 Image via Twitter/Jules Suzdaltsev
There appear to be at least 50 boys making the gesture
A photo of Wisconsin high school students at their junior prom went viral over the weekend when a bunch of classmates decided it would be a good idea to all give a Nazi salute. The school district and local police are now investigating the matter.
The photo appears to show around 50 male students from Baraboo High School performing the Sieg Heil, a hand signal adopted by the Nazi Party in the 1930's to signal devotion to Adolf Hitler and to use at Nazi political rallies. The photo, which was taken earlier this year on the Sauk County Courthouse steps, garnered attention when it was posted to Twitter. Carly Sidey, a former student in Baraboo, tweeted a screenshot of the photo and shared it to a private Twitter account, @GoBaraboo.
″This post has since been deleted, but i just want [Baraboo School District] to be aware of the disturbing actions that are represented in this photograph," Sidey tweeted Sunday. "This is BEYOND sickening." Writer Jules Suzdaltsev tweeted the image as well asking for students to explain the photo.
Baraboo School District administrator Lori Mueller spoke out against the photo in a tweet on Monday, saying it's "not reflective of the education values and beliefs of the School District of Baraboo. The District will pursue any and all available and appropriate actions, including legal, to address."
The school also issued a statement to parents letting them know the matter is being investigated.
Meanwhile, Suzdaltsev is sharing stories sent to him from students, current and former, that suggest the school has ignored reports of racist behavior in students for years.
As the photo circulated, the Auschwitz Memorial Twitter account weighed in with a sobering reminder of history — and the dangers of normalizing this kind of behavior.
The Baraboo Police Department told The Huffington Post that they're now "actively investigating" the case with the school district. "It's brand-new to us," police Capt. Rob Sinden said. "At this point, I really can't comment too much because it's an active case. I've been here quite a while and I can't recall ever having something like this happen in Baraboo."
Baraboo High School was placed in a "soft hold" Monday due to the photo, according to the Baraboo News Republic. A soft hold "prevents students from leaving school premises — such as for off-campus lunch — unless they have permission from a parent and approval through the office," while the matter is being looked into.
State Senator Jon Erpenbach, who represents Baraboo, partly blames Trump for the students' actions. "There is no place for hatred, intolerance and racism in our society," Erphenbach said. "Unfortunately, based on what these students see coming from the White House, some of them may believe what they have done is acceptable. It is absolutely not. Leaders, from the President on down, need to condemn racism in all its forms and work toward a world where we learn from the mistakes of history."
We wish we could say this is shocking, but with recent events like the mass shooting at a Pittsburgh synagogue and anti-semitic graffiti being spray painted on others, it never ceases to amaze how hate-filled and vile people can be.
There was, however, one student in the photo, Jordan Blue, the boy at the top right not giving the salute, who gave a statement about the incident. "The photo was taken during our Junior Prom Photos," Blue wrote. "I clearly am uncomfortable, with what was happening. I couldn't leave the photo as it was taken within 5 seconds. The photographer took the photos telling us to make the sign, I knew what my morals were and it was not to salute something I firmly didn't believe in."
It's nice to see at least one person in this crowd showed some humanity — but what of the other 50?
This article was originally published on