Barack And Michelle Moved Malia Into Harvard And Our Hearts Can't Take It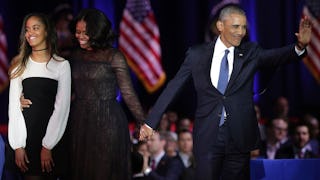 Image via Joshua Lott/AFP/Getty Images
She's so grown up and we just can't
While the rest of us were trying not to burn out our retinas watching the solar eclipse, former president Barack Obama and former first lady Michelle were moving their oldest daughter into her dorm at Harvard University. After seeing Malia grow up before our very eyes, we're getting misty about her big move right along with her proud parents.
It seems like only yesterday that Malia was a little girl walking onstage with her father the night he was elected president. That little girl is now 19 as of this summer, and after a gap year, is starting at Harvard this fall along with some very excited classmates who can't believe they're going to school with a former first kid.
Can you blame them?
Yes, that's a very much freaking out student sharing creeper video of our favorite first family on the Harvard campus. And yes, that's our last president, resplendent in Dad Jeans with his stunning wife and daughter by his side, helping her get settled in. Oh how we miss him.
Anyway, moving on.
The Obamas have famously been very protective of their daughters since the 2008 election, and we imagine leaving Malia at school will be difficult, as it is for most parents dropping off their kid at college. It must serve as some comfort that she's on familiar grounds, as both Obama parents attended Harvard Law.
But all the attention being lavished on the former first daughter may be a bit unsettling, because people are definitely losing it.
We totally understand that shook feeling. If the Obama family showed up somehow in our everyday lives, we would be losing our chill right along with these college students.
However, the Obamas are still a normal family dropping their child off at college. And Malia is still a brand-new college freshman living on her own for the first time. Hopefully, her classmates will relax about their famous fellow student as the semester goes on and give her space to adjust to life at school.
And to Barack and Michelle? We pass you all the tissues.
h/t: BuzzFeed
This article was originally published on