Get Ready To Binge Watch -- The Obamas Just Signed A Deal With Netflix
by Christina Marfice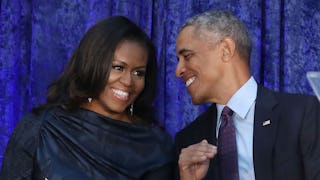 Image via Mark Wilson/Getty Images
The Obamas are now part of a multi-year deal to produce original content for Netflix
It's been a long, long 17 months since the Obamas left the White House, and, over a year into the Trump presidency, there's one thing we know for sure: We miss the heck out of Barack and Michelle. But that's all about to come to an end — the former President and his First Lady are coming to a computer and/or TV screen near you.
That's right. The Obamas just signed a multi-year deal to produce original content — both films and series — for streaming giant Netflix. The hippest president is getting even hipper, and you're going to be able to binge watch every second of it.
According to Netflix, the Obamas haven't locked down exactly what kind of content they're going to produce, but there's potential for "scripted series, unscripted series, docu-series, documentaries and features." They're producing everything under a newly established entity called (get this!) Higher Ground Productions. And there won't be any country restrictions on any of it, like there is on some of Netflix's content — everything the Obamas produce will be available to watch in all 190 countries where Netflix streams.
"One of the simple joys of our time in public service was getting to meet so many fascinating people from all walks of life, and to help them share their experiences with a wider audience," Barack said in a release. "That's why Michelle and I are so excited to partner with Netflix – we hope to cultivate and curate the talented, inspiring, creative voices who are able to promote greater empathy and understanding between peoples, and help them share their stories with the entire world."
Michelle added, "Barack and I have always believed in the power of storytelling to inspire us, to make us think differently about the world around us, and to help us open our minds and hearts to others. Netflix's unparalleled service is a natural fit for the kinds of stories we want to share, and we look forward to starting this exciting new partnership."
For now, that's about all we know. This deal is so new the ink hasn't dried on the contracts yet, so we're sure more details will come as the Obamas and Higher Ground Productions get to work. Here's hoping we'll actually see our favorite former White House inhabitants onscreen, but even if they decide to stay behind the scenes, we'll still binge watch it all.
This article was originally published on