Barack And Michelle Obama Pen Touching 28th Wedding Anniversary Tributes
by Julie Scagell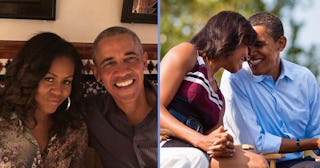 Michelle Obama/Instagram, Barack Obama/Instagram
The couple also urged everyone to vote in the upcoming election
Former President Barack Obama and former first lady Michelle Obama recently celebrated their 28th wedding anniversary. The parents of two shared adorable messages to each other on social media and used their platforms to call on Americans to help their communities vote.
"28 years with this one. I love @BarackObama for his smile, his character, and his compassion. So grateful to have him as a partner through everything life throws at us," Michelle wrote. "And this year, we have a request for you — pick one person in your life who might not vote and make sure they do. Tell us about it in the comments! That's an anniversary message of the best kind. Love you, Barack."
Barack also shared sweet words for his wife of 28 years.
"Even with everything going on, I wanted to take a moment to say happy anniversary to the love of my life. Every day with @MichelleObama makes me a better husband, a better father, and a better human," the former president said in his own post. "This year, while we appreciate all your well-wishes, what we'd really love is for each of you to reach out to one person in your life who might not vote. Help them get registered. Help them make a plan to cast their ballot. Send them to iwillvote.com to get started. Happy anniversary, Miche. Love you."
Barack and Michelle were recently named the most admired man and woman in the world, according to poll results released by YouGov. The British market research and data analytics company has conducted annual polls on the world's most admired individuals since 2014. YouGov polled across 42 countries and territories and asked respondents: "Thinking about people alive in the world today, which [man or woman] do you most admire?" Others on the list included Chinese President Xi Jinping, the Dalai Lama, businessman and entrepreneur Elon Musk, Hillary Clinton, and Angelina Jolie.
In a recent appearance on Rachael Ray's talk show, the former First Lady told viewers they've been spending a lot of time together during the pandemic, but even then, her husband knows how to keep the spark alive. Barack treated her to a lunch date recently that included an alfresco picnic and jazz.
"What he did for me the other day — because he was writing his book all summer, so I was a little bit salty because he didn't have as much time … as a treat, he surprised me with just a beach lunch date, just the two of us … and we had wine and a little jazz and we had our two little beach chairs and an umbrella and we were just hanging out on the beach alone," she said.
Happy Anniversary, indeed.