Obama Took To Twitter Yesterday And The Internet Seems To Miss Him A LOT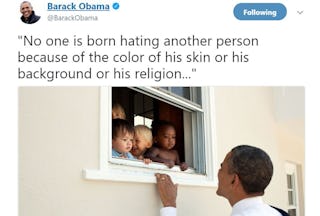 Image via Twitter
Obama's meaningful response to Charlottesville gives us all the feels
President Obama has only been out of office for a little over seven months, but it feels like an eternity when our nation is in crisis. In response to the violence occurring in Charlottesville this weekend, President Obama shared a Nelson Mandela quote from his Twitter account. Hearing from him felt like a comforting, cool hand on our collectively feverish forehead.
Obama quoted Mandela's autobiography, Long Walk to Freedom in a series of three tweets.
"No one is born hating another person because of the color of his skin or his background or his religion. People must learn to hate, and if they can learn to hate, they can be taught to love. For love comes more naturally to the human heart than its opposite."
It's refreshing to hear words like these from a leader — coherent, meaningful, and inspiring. He always knew how to respond to any crisis thrown his way with grace and eloquence. He thinks before he speaks, and it shows in every response he's ever offered in the midst of catastrophe. Leave it to President Obama to send us all a virtual gut-punch with his response to the terrorism and violence still unfolding as we speak.
His response has been re-tweeted more than half a million times, which clearly goes to show just how very much we all miss him.
And finally, the tweet that is All Of Us for however long we're left to suffer through the abysmal consequences of the current administration: