Watch Ana Navarro Come For Barbara Corcoran When She Fat Shames Whoopi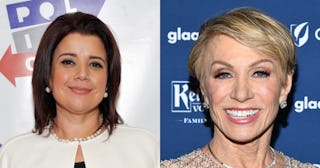 John Sciulli / Stringer/ Araya Doheny / Stringer/Getty
Ana Navarro was quick to jump to Goldberg's defense
Shark Tank judge Barbara Corcoran is in some hot water after making a crack about The View host Whoopi Goldberg's weight during her appearance on the show this week. But here to save the day was one Ana Navarro.
Corcoran was talking to the hosts of the show — Goldberg, Navarro, Sara Haines, Joy Behar, and Sunny Hostin — about Emma Grede, the founder and CEO of denim brand Good American. She was explaining Grede will be the first Black, female guest shark on Shark Tank this season. Hostin jumped in to rave about the size-inclusive brand and how much she loves their jeans.
Goldberg quipped: "Well, I have to try them," saying, "Will they fit this COVID [butt]?" Navarro joined in wondering the same and Goldberg said, "Well if they fit these two COVID butts," and that's when Corcoran decided it would be a good time to make a really distasteful and cruel statement in the name of being…funny?
"When you get finished with those jeans, and decide you don't like them, give them to me," she said. "I'm gonna make two pairs." Oh, hell no.
Cameras panned to Goldberg, who looked entirely unamused at her comment, but before she could utter a come back (or take down, which would have been entirely appropriate), Navarro stepped in and immediately took Corcoran down about the floral dress she was wearing.
"Whoopi, let me just tell you something," she said matter-of-factly. "Both Sara Haines and Jill Biden wore that dress already, on TV."
People were less than thrilled with the Shark Tank host for seemingly making a dig about Goldberg's weight but very much here for Navarro's quick response:
Corcoran responded to those critical of her comments saying by issuing an apology video captioned: "Love ya Whoopi."
In it, she apologized but somehow glazed over the fact that because you've known someone for years doesn't mean you can make a cruel joke at their expense. "I just came back from The View and saw my old friend Whoopi," the entrepreneur began. "She has a phenomenal sense of humor, and I've known Whoopi for years."
Corcoran continued: "I made a joke at Whoopi's expense, which I now realize wasn't funny. For anyone who I may have offended unintentionally, I just wanted to say I really am very sorry."
No word from Goldberg as of yet whether she plans to respond but I think we can all agree trying to make a joke about or comment on a person's weight is never appropriate on any level — ever.