Barber's Kind Approach With Boy With Autism Will Melt Your Heart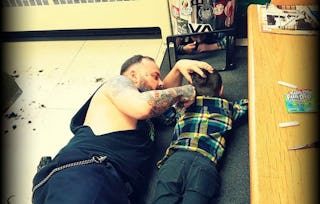 Image via Fauve Lafreniere
This barber helps a boy with autism feel OK about getting a haircut
Cutting the hair of children with autism can present a challenge. Sometimes they aren't keen on being touched, especially by a stranger. Luckily, there are barbers like Franz Jakob out there who meet such challenges with kindness and empathy.
Six-year-old Wyatt and his mom, Fauve Lafreniere, started going to Jakob's shop, Authentischen Barbier in Quebec two years ago. "At first I didn't know he was a barber, so I talked to him about my son," Lafreniere tells Scary Mommy. "And he just told me 'bring your boy to my shop, I'll do his hair.'" She said once she realized he was a barber, "that was the beginning of that" and two years later, Wyatt is still going to see Jakob.
Lafreniere recently shared a photo of the two of them. doing what they do in order to make sure Wyatt is comfortable with getting his hair cut.
So what is it about Jakob's barber shop that makes Wyatt feel secure? "My shop is completely vintage," Jakob told TODAY.
"All the walls are jammed with photos and stuff from around here," he said. "I think that has a positive effect on the kids. Each time I'm doing it there are no tears, no screams. We enjoy it together. I think the atmosphere of the barbershop helps a lot. I really take my time doing it. I can take up to 90 minutes cutting hair for kids with special needs."
Jakob says he cuts the hair people of all ages with special needs and terminal illnesses. He says he takes "great pride" in what he does.
With Wyatt, there has to be a certain order to things when he comes into Jakob's shop. He usually wanders around, looking at things, and will sometimes lay down. So Jakob follows suit and cuts his hair that way.
"He's just fantastic," Lafreniere wrote on Facebook. "When we get there he welcomes Wyatt as a friend. He gives so much to make him comfortable!"
This article was originally published on