Barbie's New Collab Takes A Stand For LGBTQ Rights
by Megan Zander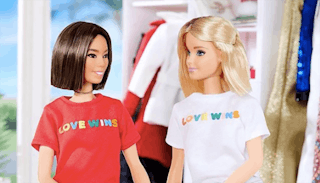 Image via Instagram
Barbie Style Instagram post pictures of dolls wearing Love Wins shirts
For many kids, Barbie dolls are more than mere playthings. Barbies are vehicles of imagination, and a way for kids to live out their own dreams — whether that's driving around in a pink convertible or pretending to be Madame president.
Mattel has already proven they know the important influence Barbie can have in a kid's life by creating dolls in a variety of body types, because having our kids play with dolls that more accurately reflect what women in the real world look like is always a good idea. Now the brand is putting its popularity to good use again, teaming up with designer Aimee Song to promote her Love Wins shirt, which raises funds to help LBGTQ youth in crisis.
Song, a fashion blogger who was named to Forbes 30 under 30 list in 2016, created the rainbow hued shirt in honor of Pride Month. She saw the design as a way to both honor her friends in the LGBTQ community and benefit a great cause at the same time. "So many of my friends (actually most of them) are a part of the LGBTQ community, and I know that life was not always easy for them," she explains on her blog. "They're all in great places in their lives now and they're such great examples of 'It Gets Better.' As an ally, and someone who really believes that love wins, I created this tee shirt to benefit The Trevor Project–a non-profit organization focused on preventing suicide among LGBTQ youth. It absolutely breaks my heart that some kids take their own lives because they can't see that it will get better in the end, and I'm happy that The Trevor Project exists to help those who need it."
Song's idea caught the eye of Mattel, who decided that she was definitely someone Barbie would want to hang with IRL. So they created a Barbie version of Song, and made the meet up happen. Seeing doll-sized avocado toast is fun, but seeing a major brand boldly declare itself an LGBTQ ally is even better.
The Aimee Song doll and the tiny Love Wins shirt are both one of a kind, so unfortunately your kids can't add this doll or the shirt to their toy collection. But the good news is that you can order yourself the adult-sized version of the shirt for $68, and support a great cause in doing so. Fifty percent of the shirt's sales proceeds go to The Trevor Project.
Collaborating with Song is Barbie's latest effort in inspiring girls to be their authentic selves. The brand recently launched its Sheroes collection — dolls modeled after real people who are "female heroes who inspire girls by breaking boundaries and expanding possibilities for women everywhere." Recent Shereo dolls include Olympic fencer Ibtihaj Muhammad, model Ashley Graham and professional ballerina Misty Copeland.
Barbies of all sizes, skin colors, religions and sexual orientations. We're here for it, and we're happy our kids are, too.