Barbie Celebrates International Women's Day With New Eleanor Roosevelt Doll
by Kristine Cannon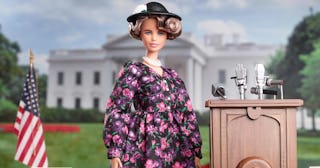 Mattel
She's the only First Lady to have a Barbie doll named after her
Eleanor Roosevelt, one of the most influential women of the 20th century, is the latest figure to get the Barbie treatment.
In celebration of International Women's Day, Barbie has added the former First Lady to its "Inspiring Women" series. In fact, she's the only First Lady to have a Barbie doll named after her.
"We are delighted to welcome former First Lady Eleanor Roosevelt to the Barbie Inspiring Women series and to shine a light on how her perseverance as a champion of policies around civil and economic rights made an impact on the world," said Lisa McKnight, senior vice president and global head of Barbie and dolls at Mattel, per CNN.
The new Eleanor Roosevelt doll, which wears a floral print dress, pearl necklace, and black hat, arrives just in time for International Women's Day, which takes place March 8 and celebrates the social, economic, cultural, and political achievements of women.
"Barbie is proud to honor Eleanor Roosevelt as the newest in the line of Inspiring Women. Through years of service, she used her voice to lift up others and inspired generations to speak up," Barbie tweeted.
Roosevelt served from 1933 to 1945, and during the time of her husband President Franklin D. Roosevelt's presidency, she not only authored six books and wrote thousands of articles, but Eleanor also held weekly press conferences specifically with women reporters who she hoped would get her message to the American people. A humanitarian at heart, Eleanor would also later serve as a United Nations diplomat, as well as chair the United Nations Human Rights Commission and help write the 1948 United Nations Declaration of Human Rights.
"Eleanor Roosevelt was one of the most influential First Ladies in history," said Jennifer Herrera, vice president of external affairs for the National Women's History Museum. "She was a fierce advocate for peace, racial justice, and civil rights; a keen and savvy political adviser; and a tireless champion of women's equality and economic opportunity. She truly devoted her life to making the world a better, more just place."
Barbie initially launched the "Inspiring Women" doll series in 2018, and the first three dolls in the series included Amelia Earhart, Frida Kahlo, and Katherine Johnson. This year, along with the launch of the Eleanor Roosevelt doll, Barbie is launching its first-ever digital series called Barbie You Can Be Anything, which also features female role models. The first episode, titled "Your Voice," goes live today at 1 p.m. ET/10 a.m. PT.
The Barbie You Can Be Anything Series is described as an "exciting and inspiring workshop about activism and using your voice in a positive way for a worthy cause." The first episode features a conversation for parents and kids, alike, with female activists of all ages, including Yara Shahidi, Adwoa Aboah, Mari Copeny, and Havana Chapman-Edwards. Viewers will also catch a special performance by DJs Amira & Kayla.
"With over 60 years of history inspiring the next generation, Barbie continues to stay relevant by being everywhere our consumers are and engaging fans in new ways," said Lisa McKnight, Mattel's Senior Vice President and Global Head of Barbie and Dolls. "With the virtual event space growing exponentially, we are leaning in with innovative online experiences authentic to our brand DNA, like the Barbie You Can Be Anything Series, to connect female role models who have broken boundaries with families and remind them that kids will become the leaders of tomorrow."
New episodes air every Saturday in March.