Barbie Launched A Line Of Dolls Inspired By Real-Life Iconic Women
by Thea Glassman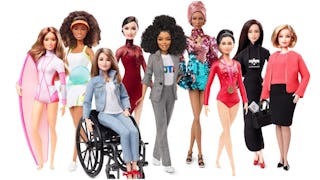 Image via Mattel
Barbie's new line of dolls are based on inspiring real-life women
Barbie is celebrating her 60th birthday this year and she's making some big changes. There's a brand new line of dolls being created in honor of International Women's Day and they're all based off of inspiring real-life women. Get ready to make some noise for some serious powerhouses – including tennis star Naomi Osaka and journalist Ita Buttrose.
Barbie's new collection will honor twenty influential women, from multiple continents. They speak a total of thirteen different languages, range from the ages of 19 to 85 years old, and are all very, very amazing in their own ways.
"For 60 years, Barbie has championed girls, inspired generations to believe through make believe and showed them that they have choices. With more than 200 careers, six runs for president and a trip to the moon before Neil Armstrong, Barbie continues to evolve to be a modern, relevant role model for all ages," Lisa McKnight, Barbie's General Manager and Senior Vice President, said in a statement. "The Barbie brand believes girls should never know a world, job, or dream women haven't conquered."
There's a wide array of incredible women, including cycling champion Kristina Vogel, singer Kelsea Ballerini, and photographer Chen Man. Also, Mattel will be donating one dollar of every doll sold directly to the Barbie Dream Gap Project Fund, which supports organizations that are dedicated to "leveling the playing field for girls."
Actress and activist Yara Shahid took to Instagram to post a picture of the doll that was created in her likeness and shared her excitement. "I'm honored to be repping all the young ones as a Barbie Role Model," she wrote. "Let's continue to inspire the next generation and each other. We need your voices and are watching you all Blossom and shine!"
Barbie is embracing representation and diversity big time, and I'm beeping my bright pink glam convertible in support. She now comes in many different shapes and colors.
She's an astronaut.
A beekeeper.
And can rock bold pink hair and an edgy holiday dress like no other.
Sending three big, big cheers to Mattel for their ongoing mission to empower, inspire, and represent all kids.