Barbie's New 'Inspiring Women' Collection Is So Freaking Awesome
by Leah Groth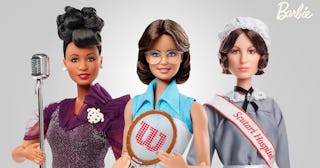 Barbie
As part of their efforts to inspire young men and women, Barbie has added to their "Inspiring Women Series" of dolls
Over the last few decades, the people over at Mattel have taken major strides in evolving the Barbie collection. Barbie has basically gone from an unrealistically thin, blonde, blue-eyed, bikini-wearing white woman to a size, color, gender, health condition, sexual orientation, and career-inclusive being, on a mission to empower children around the world. In 2018, Barbie debuted the "Inspiring Women Series," a doll collection honoring modern and historical role models, such as Amelia Earhart, Katherine Johnson, Frida Kahlo, Rosa Parks and Sally Ride, who paved the way for generations of girls to dream bigger than ever before. On Thursday, they announced that they were adding new dolls to the collection — including Billie Jean King, Ella Fitzgerald, and Florence Nightingale.
Each doll features authentic clothing and unique accessories, plus educational information about the honoree's contributions to society, so girls can be inspired by their stories through play.
The first doll is modeled after Billie Jean King, former No. 1 tennis player in the world. She wears a two-tone blue and mint-green tennis dress inspired by what she wore during her legendary match as well as the athlete's signature round-frame glasses and blue tennis shoes. A Wilson racket and ball complete her look.
The Florence Nightingale doll, depicting the founder of modern nursing, wears a 19th century nurse's uniform featuring a gray dress with a lacy collar and sleeve trim. She comes with a nurse's cap, apron, lamp accessory and a sash printed with "Scutari Hospital."
The Ella Fitzgerald doll, depicting the First Lady of Song and Queen of Jazz, features a "curvy body type," according to the press release, and wears an elegant gown in a shimmery deep purple with sheer, gathered sleeves, elegant up-do and pearlescent brooch. She comes with a microphone and stand with a vintage look and is fully articulated.
Each retails for $29.99 and is available at Target, Walmart, Amazon, and Barbie.com.
"The new dolls are part of Barbie's mission to close the Dream Gap, a multi-year global initiative to raise awareness around limiting factors that prevent girls from reaching their full potential, by showing girls more role models (historical & present) and telling their stories," the company explains in a press release.
Billie Jean recently told People she is "thrilled" to be added to the Barbie lineup, and hopes to inspire young women. "They can dream, they can imagine when they have their Barbie," she said. "Hopefully it helps them to think about all the possibilities in their life — that they can be anything they want to be and that it'll help them decide how to define their lives and not be defined by others. So I think it's fantastic."
This article was originally published on