Barbie's Historic 'Inspiring Women' Dolls Are The Toys Every Kid Needs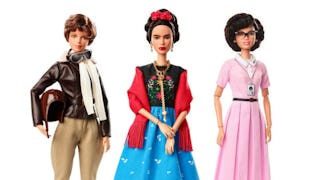 Image via Mattel
Barbie's new "Inspiring Women" dolls are beautifully diverse
Barbies are just about as universal a toy as there is. Almost every little girl has a doll (or several). Many little boys do, too. And while for decades Barbie was easily recognizable with her tall, thin, perfectly proportioned figure, pale skin and blonde hair, Mattel is starting to see how important representation is. And the newest Barbies reflect that — they come in all sizes and skin tones.
What may be even better is Mattel's new line of "Inspiring Women" Barbies, modeled after three historical (and diverse) women that all kids can look up to: Katherine Johnson, Amelia Earhart and Frida Kahlo.
Johnson, whose story was featured in the critically acclaimed 2016 film Hidden Figures, was one of the first black women to work for NASA, destroying boundaries in the field of mathematics for all women by calculating the trajectory that got Apollo 11 to the moon.
Earhart was the first woman to fly solo across the Atlantic Ocean.
And Kahlo was a Mexican artist and staunch feminist, renowned all over the world for her brilliant paintings.
All three dolls are available to preorder on Mattel's website, even though they don't have a release date set yet, but you'll want to act fast if you want to grab them — a gift set containing all three is already on back order. They'll also eventually be available in stores, complete with educational booklets about each woman and her accomplishments. Honestly, every kid should have a set of these.
"As a brand that inspires the limitless potential in girls, Barbie will be honoring its largest line up of role models timed to International Women's Day, because we know that you can't be what you can't see," Mattel senior vice president Lisa McKnight said in a press release. "Girls have always been able to play out different roles and careers with Barbie and we are thrilled to shine a light on real life role models to remind them that they can be anything."
What makes these even better is that Johnson, who is now 99 years old, had an active hand in helping design her doll to look as much like her as possible. We can't love these enough.
This isn't the first time Mattel has looked to role model women for Barbie inspiration. This series is new, but several women, including Gabby Douglas and Ava Duvernay have been models for the brand's "Sheroes" line. And ahead of International Women's Day, Mattel is adding 11 more Barbies to the Sheroes collection, each modeled after a modern-day inspiring woman.
There's Chinese ballerina Yuan Yuan Tan and German designer and entrepreneur Leyla Piedayesh.
Other dolls include Italian soccer star Sara Gama, journalist and Travel Channel editor-in-chief Martyna Wojciechowska, and Chinese actress and philanthropist Xiaotong Guan.
There's conservationist and Dancing With the Stars winner Bindi Irwin, Chinese volleyball champion Hui Ruoqi and renowned French chef Hélène Darroze.
And rounding out this year's additions to the collection are American snowboarding gold medalist Chloe Kim, Wonder Woman director Patty Jenkins and boxing champion Nicola Adams Obe.
The "Shero" dolls aren't meant to be mass-produced or released for purchase, but Mattel has made exceptions in the past for the more popular models — Gabby Douglas' 2016 look-alike doll is still available in the online Mattel store.
If they make the rest available for sale, we will be ready and waiting.