Barbie Makes An Ashley Graham Doll, Complete With Thighs That Actually Touch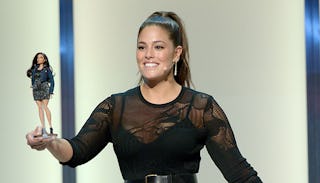 Image via Matt Winkelmeyer/Getty Images
Barbie makes an Ashley Graham doll that matches her measurements
Ashley Graham is killing it this year. She was the first plus size model to ever grace the cover of Sports Illustrated, she premiered her own lingerie line at New York's fashion week, and she was unapologetically her bad ass self, showing off her awesome curves and even celebrating her cellulite.
Basically, we couldn't love her more.
Now, she's even got her own Barbie, complete with matching measurements. She was presented with it at Glamour's Women of the Year Awards.
Look. At. This. Doll.
Fierce cat eye? Check. Giant hoops? Check. Actual hips? Check. The doll's thighs even touch, which is definitely a first for Barbie.
I want this Bar– I mean, my daughter wants this Barbie. Oh, who am I kidding? I want this Barbie. Unfortunately it's just a one-off, and not available for purchase. But something tells me the press it's generated alone may sway Mattel's decision making here.
"I never really thought that I didn't look like her growing up, I just thought she was perfect," Graham told The Huffington Post, referring to Barbie. "If I had a Barbie that was my size, I would have thought my size was normal. Young girls now get to grow up seeing that their bodies are normal, which I think is so empowering and encouraging to the younger generation."
She did have a requirement for making a doll in her image though. "All we did was take 360 degree photos of my body to send to them, and afterward we fleshed out some details. The color of my hair, a few details on my face like beauty marks and full eyebrows. The number one prerequisite, though, was that her thighs touched. I was like, 'Guys, we can make this Barbie, but if her thighs don't touch, she's not authentic.'"
I don't care what anyone says about Barbie, as far as I'm concerned she can do no wrong. Barbie was the blank slate I poured all my dreams into as a child. My Barbie was an entrepreneur and a badass, and her tiny waist didn't stop that. But had I had this figure to look to? That would have been amazing. All curvy girls know what it's like to not have a doll in their image. But thanks to Mattel, we finally do. They released new body shapes and skin tones for Barbie this year. She's better than ever.
"We have to let girls know, it doesn't matter what shape you come in," says Tanya Missad, Mattel's Director of Consumer Insights. "That anything is possible."
If anything is truly possible, we'd like you to make this Ashley Graham doll available for purchase, STAT. Please and thank you.
This article was originally published on