Shero Barbie Is The First Mattel Doll To Wear A Hijab
by Jerriann Sullivan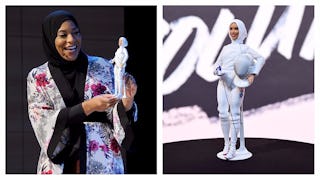 Image via Craig Barritt/ Ilya S. Saveno/ Getty Images
Ibtihaj Muhammad inspired Shero Barbie this year
Barbie has a new look, and we love it. Finally, the famous doll will have her own hijab. As Mattel makes moves to be more inclusive, the toy giant just announced the release a Barbie who wears a hijab, the traditional head covering that many Muslim women wear in public.
Playing with Barbie is a childhood memory many of us cherish. And now that she's got her hijab, she'll look a bit more familiar to many little girls around the world.
Her updated look comes courtesy of the "Shero" Barbie program that each year honors women who have inspired the world with their notable achievements. One of those badass ladies is the incredible fencer Ibtihaj Muhammad, who was the first American Olympian to compete while wearing a hijab.
The "Shero" Barbie made in her honor will mark the first time the famous doll has worn the head covering.
"Through playing with Barbie, I was able to imagine and dream about who I could become," Muhammad said in a statement to Bustle. "I love that my relationship with Barbie has come full circle. Now, I have my own doll wearing a hijab that the next generation of girls can use to play out their own dreams." It's pretty amazing this iconic doll will help create amazing memories with kids all over the world. The one-of-a-kind "Shero" Barbie will be available in 2018.
Thankfully, we already got to see a sneak peek of the new Barbie. Muhammad was presented with it on Monday when she was named one of TIME's Most Influential People in 2016 at the Glamour Women of the Year Summit. Previous "Shero" Barbies, which launched in 2015, have been inspired by Olympic gymnast Gabby Douglas, model Ashley Graham, ballerina Misty Copeland, director Ava DuVernay and actress Zendaya, according to CNN. As news broke about Muhammad's "Shero" Barbie, folks took to Twitter to share their excitement including actress Kerry Washington.
Mattel has been releasing more and more different dolls that are each uniquely awesome. We finally have Barbies that are tall, curvy, and petite. Even Ken got a makeover – complete with a fresh man bun. Mattel has been hard at work making toys that better reflect the boys and girls who play with them so it's about time we got a Barbie with a hijab.
"Barbie is celebrating Ibtihaj not only for her accolades as an Olympian, but for embracing what makes her stand out," explained Sejal Shah Miller, vice-president of marketing for Barbie. "Ibtihaj is an inspiration to countless girls who never saw themselves represented. By honoring her story, we hope this doll reminds them that they can be and do anything."
This article was originally published on