Barbie's Video On Racism Will Help Start The Conversation With Your Kids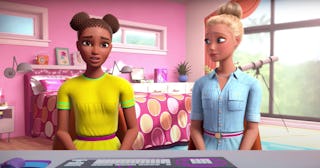 Barbie/Youtube
Barbie and her doll friend Nikki discuss racism in new webisode
We are living in a new era of the civil rights movement and brands that claim to champion diversity are learning that they have to go further than just printing BLM on a t-shirt if they truly want to work towards an anti-racist future. I can't believe Barbie is leading the charge to educate kids about racism, but she is, and I'm here for it. Mattel and Barbie just released a three-minute webisode where Barbie and her friend Nikki discuss racism, and while I'm certain the racist Karens of the world will throw a fit, these are exactly the kinds of things more companies should be doing.
The episode — titled "Barbie and Nikki Discuss Racism" — includes a frank discussion about the subtle and not so subtle ways that Barbie's friend Nikki, who is Black, experiences racism and honestly, it's a pretty good conversation starter for, let's be real, white kids, who may never have to talk about or think about racism, well, ever.
In a statement from Mattel (obtained by The Glow Up), "Barbie is using her platform to raise awareness around racism and encourage girls to stand up if they see a person treated unfairly. The format of the episode consists of Barbie's friend Nikki talking about the racism she has personally felt and share some stories that may resonate with other girls…The goal of the episode is to help girls to understand that there is a huge movement going on in the fight against racism, why people are marching together and the importance of reading and learning more about Black history."
The video is only three-minutes long, which is why I'm saying it's a good asset to start the conversation about racism with your kids.
"People might think that my life looks fine, But the truth is, I and so many other Black people have to deal with racism all the time. It's really hurtful, and it can be scary and sad," Barbie's friend Nikki tells the viewer.
In the conversation, Nikki shares anecdotes of micro aggressions she's faced as a Black girl, like being stopped on the beach when she and Barbie were both trying to sell stickers. Nikki was stopped and questioned, but Barbie wasn't. She also shared a story of her French teacher refusing to believe she could speak French, assuming she had gotten "lucky" when she aced the test. "I don't want to have to constantly prove and re-prove myself," Nikki explains. "Usually when I talk about these things, people make excuses… But those are just excuses. People did these things to me because I was Black and they made the wrong assumptions about me."
"That means that white people get an advantage that they didn't earn, and Black people get a disadvantage that they don't deserve," Barbie recaps for her friend.
Educational videos like this one are awesome and I'm glad Barbie made this. It's also very important to note that Barbie gave Nikki the floor to share her experiences rather than Barbie, a white doll, lecturing the audience about racism. I can't believe I'm saying this, but if you're looking for a space to begin your own or your family's journey in anti-racism work, this Barbie video is a pretty good place to start.