Barefoot Wine Introduces Spritzers In A Can Because We Really Can Have It All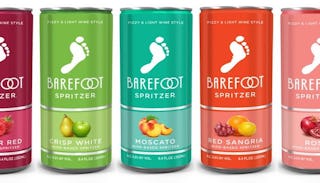 Image via Barefoot Wine
Wine in a can? Count us in
Summer is just around the corner — that means barbecues, baseball games, and running barefoot with your kids on the beach. And by "running barefoot," I mean running with a Barefoot Spritzer, which will make playing with your kids that much more enjoyable.
I'm kidding. Or am I?
Wine lovers, pay attention. Barefoot Wine and Bubbly just released their newest spritzer options that come in a wee little can, perfect for packing in coolers and or shoving in a koozie and pretending it's a Diet Coke at your kid's T-ball game (no judgment, those games are a cluster). What's more, there are so many options to choose from, you're guaranteed to find a winner.
So what are the options, you ask? First, and most important my personal favorite, the Rose Spritzer, is a "refreshing medley of juicy peaches and zesty mandarins," according to their website. Count me in, Barefoot Marketing Person, I'm sold.
There's also a Moscato Spritzer (very sweet), a Red Sangria (thank you wine goddesses), a Crisp White ( a combination of Chenin Blanc and Riesling, perfect for a hot day or every Monday), and a Summer Red. Each one contains 9 percent alcohol so check yourself before you wreck yourself, these puppies will go down like water.
Get headaches from cheap wine? Suck it up, buttercup, because these little miracles in a can sell for only $8 for a four-pack. Yep, you read that right. I'm no mathematician but that sounds like a nice little party in your mouth for the same price you'd pay for a mousepad with a cat riding a unicorn.
Dammit, I sort of want both these things.
Their handy-dandy site also gives you a scale of dry to sweet, so there are no surprises when you crack open your can-o-wine. And say what you will about drinking wine out of an aluminum vessel, it's convenient and delicious.
Though if you're too fancy for cans, Barefoot offers three yummy spritzers in the classic bottle form.
Since the spritzers are available online on sites like Wine.com and Amazon, they are readily available with the click of a button. Gone are the days of breaking or chipping and cleaning up all those glasses after get-togethers. Just recycle those bad boys or crush them with your forehead for a neat little party trick. The bottom line is they are easily disposable. And who doesn't need more of that?
Whatever the occasion, these Barefoot Spritzers are sure to spruce up summer. Blessed be the Wine Makers.
This article was originally published on