Starbucks Barista Surprises Deaf Customer By Learning Sign Language To Serve Him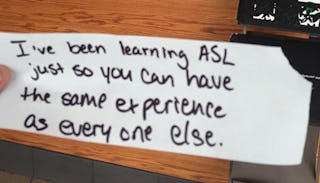 A Starbucks barista learned American Sign Language to connect with a deaf customer.
Ibby Piracha visits his local Leesburg, Virginia, Starbucks at least three times a week, but he was surprised during his last visit when the barista revealed that she'd gone out of her way to do something special for him. Piracha is deaf, and the barista learned American Sign Language (ASL) specifically so she'd be better able to communicate with him.
In a post on Facebook, Piracha shared a handwritten note he received from the barista that reads, "I've been learning ASL just so you can have the same experience as everyone else."
In the caption for the photo, the 23-year-old wrote that he was so "surprised" by the barista's effort and wants to spread the word about her kind act. He says:
"Oh, I gotta love this place. Starbucks woman cashier, she wrote it to me and she knew I am deaf. I am surprised she learning sign language because I attend to Starbucks 3 times in a week. She asked me 'what you want to drink?' in sign language. I am so blessed with her. I think she realized Leesburg, VA have deaf people. Please share this post to everyone. I want hearing people would understand about hearing community supporting for the deaf community. [sic]"
Since Piracha uploaded the photo of the note, his post has been shared more than 3,900 times. In the comments on the post, he reveals that he usually communicates with sales associates by typing out text on his phone, and while this barista isn't the first person he's signed with, she is one of the first who's learned ASL specifically to communicate with him. He tells ABC News, "She was saying she looked on YouTube because she had a lot of customers that came in using text. I was very surprised she was willing to learn and it shows she respects deaf people. She's an inspiration."
Piracha says he shared her note because he wanted to get the message across that "the hearing world and the deaf world are trying to communicate." According to a Gallaudet University study, there are one million people across all age groups who are functionally deaf in the United States, and one to two million people who are fluent in American Sign Language — the study notes it's difficult to get an accurate number.
Either way, those numbers show that the vast majority of people outside the deaf community don't know American Sign Language, and that means deaf people must rely on other means of communication. Technology has made communication easier, and certainly there are deaf people who prefer not to rely on sign language, but it's still important for more of the world to possess signing abilities.
This barista not only went out of her way to improve Piracha's customer experience and show him how valued he is, but also created a better atmosphere for other people in their community who are deaf or have some kind or hearing loss. Her actions are an inspiring reminder that there are so many small things we can do to make life easier for one another, and so many ways to show people how much we care. Hopefully her selfless act will encourage everyone who sees Piracha's post to do something to benefit the people in their own communities as well.
This article was originally published on