Barnes & Noble Is Going To Serve Alcohol, This Is Not A Drill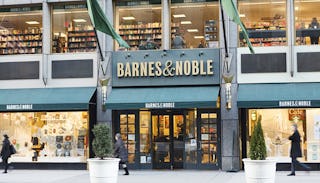 Via Shutterstock.
Barnes & Noble hopes booze will bring book lovers back to stores
What's better than books? Books and beer. Or wine! And you can soon get both at a Barnes & Noble store.
In an effort to make its locations more about experiences instead of just products, Barnes & Noble will soon serve beer and wine, CNN Money reported. The company hasn't released info on a proposed dress code so it's unclear if hanging out in my pajamas while drinking and reading will be deemed acceptable. Nonetheless, this is exciting news for book lovers.
Barnes & Noble will open four concept locations where shoppers will be treated to an expanded food menu and a selection of wine and beer. Hard booze didn't make the cut. Like most bookstores, the chain has been struggling to compete with Amazon and is hoping the redesign will spur sales. The announcement alone made many people happy, and the company's stock rose 7.9 percent to $11.26. Barnes & Noble stock is now up 29 percent this year, Bloomberg reported.
As usual, though, not everyone was thrilled by the obviously fabulous news. "No way! Alcohol does not belong in a bookstore!!!!" Liz Farrell wrote. Liz doesn't get out much, I guess, because I've been to tons of independently owned bookstores that serve wine and beer. The concept is new to Barnes & Noble, but not new in general.
"Smh no alcohol….its a bookstore. A place you should be able to take your kids.. all we need is more places people can go drink…then drive home…" Melissa Gabel Warren shared. Think of the children! How can we possibly expose kids to adults who are drinking responsibly?! I hope Melissa keeps her children out of every restaurant and movie theater that also serves wine and beer. Also, how about we not assume that every person who has an alcoholic beverage is going to drive drunk? We sell plenty of beer at sporting events and no one cares.
Book lovers who happen to enjoy a glass of Merlot also celebrated the news online. Like one woman who wrote, "Beer at the movies, beer at the bookstore, wine while you shop for beer…if only the dentist would hand out wine spritzers in the waiting room, I'd probably go a little more often." And another gentlemen who shared, "Eat, drink and read merrily!"
The new stores are set to open in in Eastchester, New York; Edina, Minnesota; Folsom, California; and Loudon, Virginia.
This article was originally published on