Barron Trump Tested Positive For COVID, Too
by Valerie Williams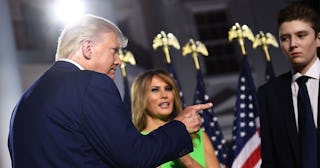 BRENDAN SMIALOWSKI/Getty
Barron Trump had COVID-19 but has since tested negative for the virus
In a statement she released earlier today, First Lady Melania Trump announced that her son with President Donald Trump had coronavirus, just like his parents.
"It was two weeks ago when I received the diagnosis that so many Americans across our country and the world had already received—I tested positive for COVID-19," she said in a statement. "To make matters worse, my husband, and our nation's Commander-in-Chief, received the same news." Then, she reveals that their teen son Barron Trump also tested positive for the virus.
She shared that after finding out about their own status, they had Barron tested too. "To our great relief he tested negative, but again, as so many parents have thought over the past several months, I couldn't help but think 'what about tomorrow or the next day?.' My fear came true when he was tested again and it came up positive."
Melania says Barron remained asymptomatic. "Luckily he is a strong teenager and exhibited no symptoms. In one way I was glad the three of us went through this at the same time so we could take care of one another and spend time together. He has since tested negative," she shares.
When questioned about Barron's diagnosis, President Trump told reporters today on the South Lawn that his son is "fine."
The First Lady also shared details about her own battle with the virus. "I was very fortunate as my diagnosis came with minimal symptoms, though they hit me all at once and it seemed to be a roller coaster of symptoms in the days after. I experienced body aches, a cough and headaches, and felt extremely tired most of the time," she says.
It was first reported that both Melania and the President tested positive for the virus on October 2nd as the result of what's now being called a super spreader event. The first couple along with several others in attendance at the SCOTUS nomination ceremony for Amy Coney Barrett on September 26th have since reported testing positive for COVID-19. The President spent three days at Walter Reed Medical Center where he was given several drugs including one that is still experimental. He is now back to holding rallies and claims he's fully recovered.
Melania says she's now testing negative and will soon resume her duties as First Lady. "Along with this good news, I want people to know that I understand just how fortunate my family is to have received the kind of care that we did. If you are sick, or if you have a loved one who is sick—I am thinking of you and will be thinking of you every day."