Drew Barrymore's Holiday Photos Are Co-Parenting #Goals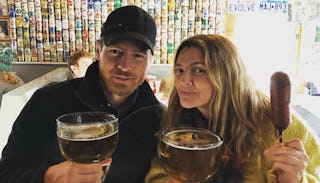 Image via Instagram/Drew Barrymore
Co-parenting can work if you have two willing participants
Co-parenting can be tough, especially around the holidays. It's easy to have bitter feelings and feel extra sensitive, especially if you are splitting time with your kids with your ex at a time when being around family feels the most important. But Drew Barrymore and ex-husband Will Kopelman show that if both partners are willing and respectful, the holidays can still be amazing.
The pair divorced last year, saying "Sadly our family is separating legally, although we do not feel this takes away from us being a family. Divorce might make one feel like a failure, but eventually you start to find grace in the idea that life goes on. Our children are our universe, and we look forward to living the rest of our lives with them as the first priority."
But the mom and dad to Olive, five, and Frankie, three, reunited for a Christmas together in Idaho this year and the pictures she shared on her Instagram page show no matter what, they will always be a family.
https://www.instagram.com/p/BdI28m_B4x0/
"Yay successful Xmas morning," Barrymore captioned next to a picture of herself and Kopelman feasting on a post-holiday corn dog and beer.
She also shared an adorable video of her ex-husband and daughter, Frankie, ice skating while Barrymore can be heard laughing in the background and another of Olive dressed head-t-toe in ski gear.
https://www.instagram.com/p/BdI3F7bhg3l/?taken-by=drewbarrymore
https://www.instagram.com/p/BdI3S1phZ1n/?taken-by=drewbarrymore
It is no secret that communication is key for divorced parents. This is particularly true during the holidays. Not only does it save frustration and chaos during an already hectic time of year, it helps level set expectations for everyone involved, not only for your kids, but for extended family as well. Obviously, it doesn't work in all families and if you don't have two committed parties working together to put the kids first, but when you do, it can work.
Barrymore has been open about the challenges of divorcing when you have kids, saying "When you break up with somebody, you're like, 'Yeah, that didn't work,'" she explained. "But when you get divorced, you're like, 'I'm the biggest failure. This is the biggest failure.'" It's even harder when you are doing it in the public eye. "It's so shameful and hard to actually go through that, even privately," she admitted. But it's clear they have put in the work to put their daughters first and show them they are still a family, even if it looks. little different than it did before.
Barrymore finished her holiday posts with a lovely picture of her and her girls. "Merry Christmas 2017… 2018 you better watch yourself!" she said.
https://www.instagram.com/p/BdJp2-QB5WR/?taken-by=drewbarrymore
It's clear these two are doing an amazing job raising their family together.