It's More Than 'Just' A Game, And Let Me Tell You Why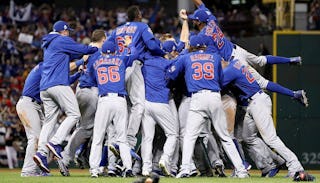 Ezra Shaw / Getty Images
Last year when the Cubs played the Cardinals in the National League Division Series (NLDS), my husband and I let our older son, Jackson, skip school to go to the game. While the two of them celebrated a win that night, I sat at home listening on my AM radio, as I love to do, and cried my eyes out, knowing that the two of them — father and son — were able to experience the game together.
Last Sunday, my husband, brother-in-law, sons, and I all watched the Cubs win their first World Series game at Wrigley Field since 1945. Tears again pooled in my eyes as I soaked it all in. And I'm not even talking about the excitement of the win, but the look of sheer bliss on my husband's face before the game even started as he realized that not only was his dream of seeing the Cubs play in the World Series was actually coming true, but he was experiencing it with all of his favorite people.
On Wednesday morning, my husband and his brother drove to Cleveland to watch the Cubs play in Game 7, in what was arguably the best game of baseball ever played. I was a bundle of nerves and a weepy mess the entire day. Sure, I was nervous about whether the Cubs might actually end their century-old losing streak, but knowing that my husband (the biggest Cubs fan I know) was able to watch his beloved Cubs play in Game 7 of the World Series with his brother (who is also my husband's best friend and another one of the biggest Cubs fans I know), well, that was more joy and gratitude than a heart can hold.
While my husband and brother-in-law stood in Progressive Field and cheered their hearts out, I watched the game at home with my sons. Together, we screamed and cried and ran around the house every time the Cubs scored a run. And after my younger son, Teddy, fell asleep on the couch, Jackson and I took turns reassuring each other that it would all work out. When things looked bleak in the eighth inning, I rubbed his back and hugged him and told him it would all be okay. And while I paced the room, he calmly said, "We got this." When the last out was made in the bottom of the 10th inning, Jackson and I shrieked and hugged each other tight, jumping up and down like fools in the living room (while Teddy slept through it all).
Some people say "it's just a game," which might technically be true. But while it might be a game, there is no "just" about it. It's about more than baseball — it's about the relationships, memories, and shared experiences wrapped up in it. It's not even about the winning or the losing (though winning is pretty nice, especially when you've waited more than a lifetime for it) as much as it is about people coming together with a deep and unwavering hope that things will work out eventually.
I grew up listening to baseball on my grandma's tinny old AM radio, and even though I have listened to Pat Hughes call the Cubs' games for the past 15 years, it is impossible for me to not remember my grandma and her love of the Milwaukee Brewers every time I turn on the radio.
There is a poetic beauty in the game, not because of the strikes and outs and home runs, but because of the memories that are made while those things are happening in the game. And just like I have memories of listening to Brewers games on my grandma's old radio, my sons will also have memories of walking into Wrigley Field on a crisp October night, or speculating on pitching changes with their dad, or hearing me cuss under my breath as I listen to Cubs games on my own tinny AM radio.
Regardless of which team you cheer for or the outcome of the game, there are always memories created and relationships strengthened simply because you shared those experiences.
I am a Cubs fan by marriage, which means that while I can't say I'm a lifelong Cubs fan, I am in love with a lifelong Cubs fan, which is almost the same thing. Being a Cubs fan — and we're all Cubs fans this week — is about so much more than hoping your team wins. It means hoping but never expecting that "someday" will happen, and it means always staying humble because decades of disappointment will create a certain kind of humility in a person. Mostly it means waiting and hoping with a resigned but cheerful optimism because, even though you are always waiting and always hoping, you are doing so with people you love. You are building relationships that transcend time and space, and creating memories that surpass wins and losses.
The year 2016 might go down as one of the craziest years in recent history, and in many ways, it can best be described as a shitshow of nastiness. In fact, there have been many times when I've (literally and figuratively) curled into a ball and sobbed at the sad state of affairs. But on Wednesday night, none of that mattered, because the Cubs won the World Series.
This means that anything is possible, and dreams do come true, even if it takes a really long time. It means that, despite all evidence to the contrary, life is good and the world is a beautiful place. When you're building relationships and creating memories with people you love, all is indeed right in the world.
And there is no "just" about it.
[free_ebook]