Reporter Asks Coach Why He 'Let' Player Miss Semifinals For Birth Of His Child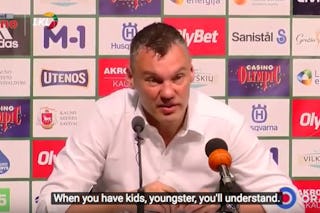 Image via LithuaniaBasket/YouTube
Coach Sarunas Jasikevicius lays into reporter who questions player missing semifinals for birth of his child
One thing that just can't be planned? When a new baby decides to make its arrival.
Such was the case for Augusto Lima, the star center for Lithuania's Zalgiris Kaunas basketball team — at the exact same time as the team's semifinal game in Lithuania's men's league championship series. Head coach Sarunas Jasikevicius allowed Lima to skip the game so he could be present for the birth of his first child, a move that not everyone seemed to understand.
Zalgiris won the game even without Lima, but at the post-game press conference, one reporter kept peppering Jasikevicius with questions about his decision to allow Lima to miss the game. The reporter, who reportedly has no children of his own, had no idea he was about to receive an education from Jasikevicius, a father of two.
Here's the full exchange in English:
Reporter: "Coach, what do you think about Augusto Lima going away in the midst of a series to attend the birth of his child?"
Jasikevicius: "What do I think about it? I allowed him to go."
Reporter: "But is it normal for a player to leave the team during the semifinals?"
Jasikevicius: "Do you have kids? When you have kids, youngster, you'll understand. Because that's the height of human experience. Wow, that's a good question really. Do you think basketball is the most important thing in life?"
Reporter: "No, but a semifinal is important…"
Jasikevicius: "To whom is it important?"
Reporter: "The team."
Jasikevicius: "Which one?"
Reporter: "Zalgiris."
Jasikevicius: "Did you see the number of fans at the game? Important? When you see your first child, you will understand what the most important thing in life is. Because nothing can be more majestic in the world than the birth of a child. Not titles, not anything else. Augusto Lima is now in heaven, emotionally. I'm really happy for him."
As any parent knows, that was the correct answer. Lima took to Twitter to thank Jasikevicius for the gesturing, writing in Spanish, "There are a lot of people and a lot of coaches, but this man is very great on and off the court… thanks, coach."