Basketball Team Throws Tortillas At Predominantly Hispanic School Rivals
by Madison Vanderberg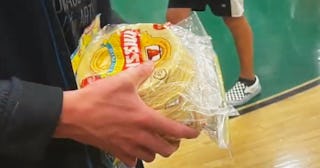 ABC 10 News/Youtube
High school students under fire for racist actions after throwing tortillas at a rival basketball team
Over the weekend, a high school basketball team got into a gross, demeaning, and racist altercation with their rivals over the game's score. Coronado High School in San Diego beat nearby Orange Glen High School 60-57 and right after their win, the winning student-athletes tossed tortillas at the opposing team, which happens to be a team of predominantly Hispanic students.
"The players on the other team and some fans started throwing tortillas at our whole team and as you can see, we're predominant Hispanic and Latino, so it took us pretty hard," Orange Glen's assistant basketball coach Lizardo Reynoso told a local ABC News affiliate, also calling the incident "disturbing."
ABC 10 captured the moment after the altercation was shared on social media.
Instead of the colloquial post-game handshake and "good game" mentions, the winning team were sore losers and "said some words that were inappropriate and told us that we should take our kids and 'get the F out' because we were a bunch of losers," Reynoso explained.
Shortly after the verbal altercation, tortillas flew, which the school identified as having being brought it by a parent. "It's racist and it was planned," Andres Rivera, a father of an Orange Glen player, told ABC.
"It's hard enough losing a state championship. To me it was flat out a racist act — we're a school that has a high population of Hispanic and Latinos and you're taking bags of tortillas throwing it in our direction?" Orange Glen coach Chris Featherly added. "It wasn't about us winning or losing, it was about what he said, to use it was completely tasteless and disrespectful."
To make matters worse, Coronado High called the police to break up the fight and Orange Glen dad Mickey Chew told Escondido Times-Advocate that the police "immediately harassed the Orange Glen parents. None of the police were on the Coronado parents."
Apparently, the team tried to explain that "tortilla tossing" is a celebratory thing, but the only instance of it occurring is that a college in Texas tosses tortillas at winning football games, which doesn't explain why a high school basketball team in California decided to suddenly start doing it.
The school's superintendent condemned the behavior and stated that the students would be held accountable. However, the
Coronado Unified School District went a step further and called it what it is, racism.
"[We] acknowledge these acts to be egregious, demeaning, and disrespectful. We fully condemn the racism, classism, and colorism which fueled the actions of the perpetrators," the school district wrote.
The school is reportedly meeting on Tuesday, June 22, 2021, to discuss how to handle the situation, but if you ask Orange Glen dad Chew, "I'd like to see that people who are responsible be held responsible for their actions. This is grounds for a coach to be fired."