Over 600 Items Are Under $5 At Bath & Body Works Tomorrow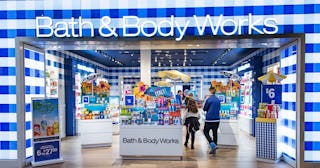 Roberto Machado Noa/Getty
Bath & Body Works is here to help with your last-minute gifting needs
Fans of Bath & Body Works are in for a big treat. The retailer just announced a new sale that includes over 600 Bath & Body Works body-care products — and it's all happening tomorrow, December 14.
There are only two Saturdays left until Christmas (curse you late Thanksgiving) and if you're looking for any last-minute gifts for friends or family, you'll definitely want to check this out. Products like shower gels, aromatherapy lotions, perfume, cleaners, and other self-care products will be on sale for $4.95. You heard that right — 600 unique items will be going for under five bucks.
If you love the store for their amazing candles and wait all year for their Candle Day event (which was this past Saturday) where they sell their famous three-wick, amazing-smelling candles for just $9, you should be even more excited for this deal. For "Body Care Day," as it will be known moving forward, almost all of their products will be available both online (thank you, sweet baby Jesus) and in stores nationwide. Many locations will also be offering extended hours starting at 7 a.m. on Saturday if you want to touch and smell the products before you buy.
Bath & Body Works will also debut three new scents on the day of the sale as a part of the brand's extensive holiday assortment. The store already boasts beloved fragrance collections, such as Japanese Cherry Blossom and Eucalyptus Spearmint, and is a leader in several personal care categories, including America's #1 Body Moisturizer brand, so customers will be happy to know these are included in the deal, as well as the retired Black Amethyst collection, which is being brought back with a new look for 2020.
According to a press release, there will be "nearly 600 Bath & Body Works-exclusive personal care products: 85 Moisturizers, 75 Cleansers, 60 Fragrances including the Men's Collection and Aromatherapy." This means stockings will be stuffed, presents for teachers, bus drivers, your favorite Aunt Betty, and anyone with a teen or tween will be able to score major points without breaking the bank.
Honestly, who wouldn't want some shea butter lotion, spearmint foot scrub, or any aromatherapy item to help them unwind during the hustle and bustle of the holidays? Most people who love the brand have their favorites so definitely stock them up with the classics and maybe throw in one of their new products for good measure. This is so much better than another pair of comfy socks for that hard-to buy-for person in your life.
The sale is truly one day only, so set your alarm and either log into their website from the comfort of your own bed or hop in the car and get yourself to their nearest brick and mortar location — stat.