'Be Our Guest' Transforms To 'Wear A Mask' For This Perfect Parody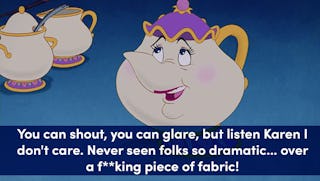 noah.lindquist/Instagram
This COVID-themed version of "Be Our Guest" is a pandemic classic
You'd think this far into a global pandemic we wouldn't have to ask people to wear a mask. I mean, scientists and the entire public health community say that masks, along with social distancing, are two of the easiest ways to prevent the spread of the coronavirus. And yet, if you walk out your front door and into any public space, you'll see people regularly going sans-mask and others complaining loudly that it violates their human rights. Eye roll.
That's why YouTuber Noah Lindquist and singer Ashley Young decided to create a parody video based on the famous song "Be Our Guest," from Beauty and the Beast called "Wear a Mask," and it's fantastic. Not only is this one of Disney's best songs, it is also the perfect vehicle to serve up some less than subtle lines for all those who feel like masks are somehow still optional in public.
The song is a rage-y, funny musical number that is NSFW or kids. I mean, the swear words are bleeped out but any kid over the age of three could probably pick up what Lindquist and Young were putting down when they sings them. The bottom line: "Wear a fucking mask, people."
The song took aim at a certain cable "news" station, lies about the preventative nature of face coverings, and even gets a jab in at "Karen," because why not?
"Stop the lies, stop the fights, no one is taking away your rights," the candlesticks, teapots, and other household objects sing. "You can shout, you can glare, but listen, Karen, I don't care! Never seen folks so dramatic over a fu*king piece of fabric." It's catchy, I know. They even mocked the ding-dongs complaining about not being able to wear a mask because it's "HaRd tO BReAtHe!" *chef's kiss*
The duo also manage to get in props for American's favorite physician and immunologist, Dr. Anthony Fauci. "Try not to be so grouchy, have some faith in Fauci," they sing. And if anyone takes aim at the fact that Lumière and Mrs. Potts aren't wearing masks themselves, please remember they are inanimate objects who don't breathe air.
In an editorial published in the Journal of the American Medical Association (JAMA), the CDC reviewed the latest science and "affirms that cloth face coverings are a critical tool in the fight against COVID-19 that could reduce the spread of the disease, particularly when used universally within communities," the organization said on its website. "There is increasing evidence that cloth face coverings help prevent people who have COVID-19 from spreading the virus to others."
The hilarious video has even gone viral enough to reach Walt Disney Imagineer Joe Rohde and the Beast himself from the live-action Beauty and the Beast, Dan Stevens.
https://www.instagram.com/p/CGeAtlplojS/?utm_source=ig_embed
For anyone that still needs some convincing, please "wear a mask, wear a mask, is this really much to ask?" No. No, it isn't.