Beachgoers Form A Human Chain To Rescue Florida Family From Riptide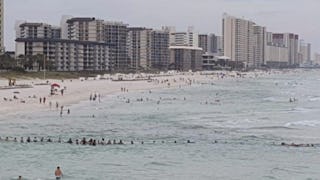 Image via Twitter
Strangers step up to save nine people from drowning
Some days, it seems like people are more interested in standing back and capturing emergencies and crises on their cell phones than actually stepping in and helping — that was not the case, however, on July 8th, when a group of people stepped into the ocean and formed a human chain to save a family of six and three others from drowning.
Roberta Ursrey was enjoying the sun at Panama City Beach with her husband, mother, two sons, and nephews on Saturday afternoon. Ursrey had just gotten out of the water when she noticed that her boys, Noah, 11 and Stephen, 8, were much farther from shore on their boogie boards then she expected them to be. As she walked towards them, she heard them screaming. The boys had been swept out to sea by a powerful riptide.
Two swimmers, Tabatha Monroe and her wife, Brittany, had been the first to hear the boys yelling for help. They quickly swam over to them and grabbed hold of their boards, but were unable to get past the current and to the shore. After ten minutes, Brittany was rescued by a group of surfers, but Tabatha, Noah, and Stephen were still stuck in the water. It was at this point that Ursrey discovered her boys were caught in the riptide, and she quickly dove in to rescue them, followed by her husband, her adult nephew, and her 67-year-old mother. Soon, all six members of the Ursrey family, plus Tabatha and two other unidentified swimmers, were trapped 100 yards from shore in 15 feet of swirling water.
That was when the good beach-going people of Panama City stepped up in a big way.
Once others on the beach figured out what was going on, they immediately started forming a human chain in an attempt to reach the group in the water. The chain soon consisted of 80 people, some of whom couldn't swim but stood in the shallow water or in water up to their necks so they could help.
Roberta Ursrey, who was exhausted and swallowing water, thought they were all going to die. "I honestly thought I was going to lose my family that day," Ursrey told The Northwest Florida Daily News. "It was like, 'Oh God, this is how I'm going.' "
That was when Jessica and Derek Simmons jumped in. Jessica says she remembers thinking,"These people are not drowning today. It's not happening. We're going to get them out." The couple, along with a few other rescuers, swam to the end of the chain with surf and boogie boards and started towing members of the group to the chain, starting with the two boys. Ursrey's mother had a heart attack in the water and told rescuers to "let her go" and save themselves. They refused and got her out of the water and to an ambulance, where her heart stopped. Luckily, she was able to be revived and remains in the hospital, where she is in stable condition.
The entire rescue took about one hour.
It's important to note that the reason total strangers were taking responsibility for the lives of those nine people is that there was no lifeguard on duty at that part of the beach that afternoon (though the area where this took place, the M.B. Miller County Pier, is listed as one of three sites on that beach covered by lifeguards during the summer), and the police on scene were waiting for a rescue boat, which is completely understandable.
There have been complaints about the shortage of lifeguards at the nine-mile long beach for years. The reason for the shortage? The county doesn't have enough money to pay for more. In fact, it wasn't until last year that two of the three current lifeguard stations were added — before then, there was just one at Russell-Fields City Pier. Bay County relies on a flag system (green for low hazard, yellow for medium hazard, red for high hazard, and double red when the water is so dangerous that the beach is close to the public) for unguarded parts of the beach. On the day these nine people were caught in a riptide, there was a yellow flag.
It's thanks to the bravery and selflessness of a group of almost 100 total strangers that all nine people survived that day. "It was beachgoers and the grace of God's will," Ursrey said. "That's why we're here today." Said Simmons: "It was the most remarkable thing to see. These people who don't even know each other and they trust each other that much to get them to safety."