Beard Bouquets Are The Valentine Gift Your Man Has No Idea He Needs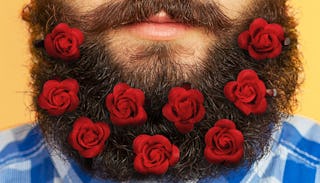 Image via Firebox
This Beard Bouquet is the perfect way for your man's beard to get in the Valentine spirit
Beards are having a long moment and TBH, things were starting to get a bit stale. Yes, beards can be sexy AF and usually require no embellishing for fans of facial hair to get all squeal-y, but if your dude's beard has begun to bore you, we've found the solution.
Beard Bouquets are here. And if we have anything to say about it, they're never going anywhere.
The geniuses at Firebox, the company that brought us this super fun swear-y wrapping paper and this ridiculously adorable unicorn humidifier have come through for us again. This time, they're offering a garden for your guy's stubble — and we're extremely here for it.
"You stuffed your beard with fairy lights, tinsel and baubles at Christmas – how the hell are you going to top that for Valentine's Day? She's already seen what your facial fuzz can do. There's only one solution. Beard Bouquet, obviously," the product description reads.
It's only $14.99 and comes with nine clip-on blooms to adorn your man's beard, and Firebox says they're "super comfortable" and "won't tug or pull." Another bonus of this flower delivery method is not having to clean them up weeks later when they're all mushy and the water stinks. There's literally no downside.
Firebox sounds pretty confident that the partners of bearded men will be feeling this beard decor big time. "One look at your flower stuffed facial hair and you'll be enjoying her secret garden in no time. Well, best not gild the lily, we can't promise THAT, but we can promise they will provide the perfect fertiliser for your blossoming romance."
If you want to get a lot more extra with this trend, know that you're far from limited to this one lewk.
He could also be a bit more subtle.
It's just a super whimsical way to acknowledge facial hair.
https://www.instagram.com/p/BNSnTNmgTjb/
Who wouldn't be into it?
Also understand that you and your man can have matching follicular flowers. No reason for him to have all the fun.
https://www.instagram.com/p/BTuMKyAgATt/
This little set can be your inspiration and maybe an on-boarding of sorts to get your man used to having half a garden on his face. Start off slow and then branch out (see what I did there?) into something more elaborate. The sky's the limit here, ladies.
Firebox has the final word here, and we can't say we disagree.
"Who could resist a man with a face of beautiful, romantic roses? Only an idiot, that's who."