'Beardaments' Are Here To Get Your Man Holiday-Ready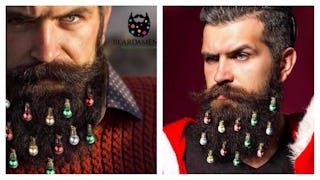 Image via Beardaments
Dress up your beard for the holidays
Now that we've all finally agreed that beards are hot we can start properly accessorizing them for the holidays. Sure, beards already looked great with flannels and Christmas sweaters. But check out how awesome they look with their own tiny, colorful Christmas ornaments.
Technically, they're called "Beardaments," and their main goal is to "Season up your beard." One is a mix of 12 red, green, gold, and silver Christmas ornaments that each have a clip at the end to ensure your beard isn't pulled or tangled in the process of decorating it for the holidays. The other is called a "Glitterbeard," which is pretty self-explanatory. They're the perfect gift for your friend who is obsessed with his beard and Christmas.
"Get your beard excited for the upcoming holiday season," the company's site reads. Huh, I didn't know beards have a wide range of emotions. I just thought it was a clever way for my husband to become hotter while also saving time he would have spent shaving. But now furry-faced folks can commit to overdoing it in the name of holiday spirit, too.
"Our beard products have been designed to cater to the modern man no matter how rugged he can get," the site continues. "From footballers and neighborhood friends to new dads and class clowns, gentlemen from all walks of life have had a blast decorating their beards with our clip-on ornament baubles." It's true. Dudes love their beards. The guys in my office constantly stroke their beards for no good reason. That PowerPoint deck didn't require that much introspective thinking, Brad. My husband got a beard comb one Christmas and brought that thing everywhere. Eventually, I had to "borrow it" aka throw it away when he wasn't paying attention.
We can't imagine the glee Beardaments will bring to men across the country. "Wear our jewelry for beards on Christmas Eve or Christmas day when opening gifts, wear them to parties or wear them all season long to show off your holiday spirit," the product description reads. Sport these hilarious beard baubles and be the most extra employee at your company's holiday bash. Or clip them on while you're wife's sleeping then wake her up for a terrifying Christmas surprise.
And if you only live with clean-shaven monsters, er, men, don't fret because these beard ornaments look great on pets, too!