Every Beatlemaniac Is Going To Want This Yellow Submarine LEGO Set
by Mike Julianelle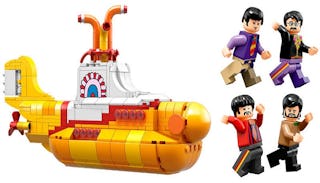 Image via LEGO Ideas
This Yellow Submarine LEGO set is a must-have for parents who want their kids to love the Beatles
It's been a long and winding road, but thanks to LEGO Ideas, an online community that allows LEGO fans to submit their ideas for new LEGO sets, the most iconic rock 'n roll band of all time is finally getting the minifig treatment. And they're traveling in style.
According to a story on Gizmodo, LEGO Ideas member Kevin Szeto created the original version of a LEGO set of The Beatles' Yellow Submarine, complete with the underwater ship and the four members of the band. A big Beatles fan and an amateur musician and songwriter, Szeto posted his creation in the LEGO Ideas community and soon received the 10,000 votes necessary to catch LEGO's eye.
The Swedish toy company decided to put the set into production, and this November, LEGO fans and Beatlemaniacs everywhere will be able to buy it. I know I'm going to; I've got to get this into my son's life.
Yellow Submarine is one of my six-year-old's favorite movies, and The Beatles are his favorite band, because I am the greatest dad in the world. He also loves playing with LEGO sets, and when he sees this set under the Christmas tree in December – provided I'm able to grab one before the fanatics snap them all up and start overcharging for them on eBay- he's gonna have a good time.
The set doesn't have a lot of bells and whistles, but the top of the submarine does come off in order to allow you to place the Fab Four inside. And it includes Jeremy Hillary Boob, a character from the movie that many people won't remember because they don't have a six-year-old who watches the animated film on a loop, and/or the last time they watched the animated film they were, ahem, day tripping. But my son is going to love it.
The bad news is that the set is 550+ pieces, so you're probably going to need a little help from your friends to get it to come together. My son is pretty good at LEGO though, so I bet we can work it out. Of course, if it's anything like the rest of his sets, the pieces are going to end up here, there and everywhere, but I'm pretty sure that after stepping on a Beatles LEGO, I'll feel fine.
The Yellow Submarine LEGO kit arrives on November 1, and I hope you don't care too much for money, because the sixty-dollar price tag is a little steep for a bunch of stuff that will be in your vacuum cleaner in a few weeks. I'm going to warn my kid that he'd better be careful with them, unless he wants his awesome Beatles minifigures to become nowhere men.
This article was originally published on