10 Cute Beauty Gifts That Won't Break The Bank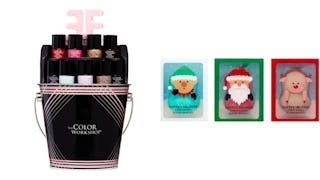 Image via Walmart
Gift your BFF with some very cute, budget-friendly beauty goodies
If you've made your list, checked it twice, and are now panicking over how much it'll all cost you – we've got your back. Walmart is selling plenty of very pretty beauty gifts that won't break the bank. You'll be Santa Claus on a budget and your BFF will be so pleased.
Makeup sponges are forever one of the most useful tools in a beauty kit. But holiday-themed makeup sponges? All the more dreamy. Blending just got so much more fun.
You had me at rose gold. This makeup set includes ten color palettes (featuring shimmer and matte), liquid glitter, lip plumping gloss in sparkling rose, and a highlighter. A happy, happy holiday, indeed.
And while your bud is washing off all their brand new makeup at night, they can use this plush headband to keep water out of their hair. Bonus points: it has cat ears.
Can your BFF give herself a salon-worthy manicure? Gift her this nail polish set and her tips will look fresh 24/7. It comes complete with nine bottles of nail polish, three tubs of glitter powder, and two toe separators. Fingers crossed you get a mani/pedi out of this too.
And, I mean, if you're going to get a nail polish gift, you might as well snag this manicure kit as well. It comes with two nail clippers, a tweezer, a nail file, scissors, and a cuticle pusher. Hellooo beautiful nails.
There are so many goodies packed into this one. It includes: holidays makeup sponges, Burt's Bees Mistletoe Kiss lip products, a collection of travel makeup brushes, and a very cute cat clutch bag. Holidays wishes really do come true.
Speaking of Burt's Bees, this kit offers up plenty of self-care for tired, cranky skin. It comes complete with cucumber & sage cleansing facial towelettes, coconut foot cream, milk and honey body lotion and moisturizing lip balms. Ahhh…pure bliss.
Okay, finally a skin cleansing brush that will not smash your entire bank account. This water resistant bad boy will remove makeup, dirt, and comes with three interchangeable brush heads. Yup, it's perfectly acceptable if you gift this to yourself as well.
Jade rollers are known for reducing puffiness, promoting blood circulation, and can help with lymphatic drainage. So, yes, this really is the the niftiest beauty tool for your BFF.
Why, yes, this is a 53-piece (!) makeup set. Bring on ALL of the glamour.
Here's to budget-friendly beauty gifts that look way more expensive than they actually are. You should probably throw a few in for yourself.
We are a participant in the Walmart.com Affiliate Program and may earn fees by linking to Walmart.com and affiliated sites.
This article was originally published on