All Of These Beauty Products Are On Sale In Amazon's Overstock Section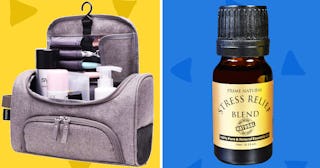 Amazon
These ridiculously useful beauty products are all on sale in Amazon's overstock section
You're going to want to run, not walk, to Amazon's overstock section. They've got some deep discount deals on a whole bunch of beauty products that you'll need to snag ASAP. Bonus points: they come with glowing reviews.
If you're looking to revamp your makeup brush collection, I'd like to turn your attention to this pretty, elegant marble set. It comes with four bigger makeup brushes and six precise makeup brushes. Concealing and contouring just got a little more bearable.
Speaking of makeup, this toiletry bag will put in the work for you. There's a hanging hook, it's totally waterproof, sized to fit easily in travel bags, and has special compartments for your toothbrushes and makeup brushes. Traveling will finally, finally be a breeze.
If you're intrigued by the idea of whitening your teeth but have zero idea of where to start, this product is a good bet. It's made from activated coconut charcoal powder and designed to pull stains from the surface of your teeth. Also, it comes with really good reviews.
Say goodbye to wrapping your bulky towel around wet hair. This wrap will comfortably sweep your wet hair out of your face, is super absorbent, and cuts down on blowdrying time.
This soothing eye gel does it all. It tackles wrinkles, dark circles, and puffy eyes and is made from powerful ingredients like hyaluronic acid and peptide complex. Basically the equivalent of nutritious food for your face.
Need to release some tension and finally get a peaceful sleep? Put some drops of this lavender essential oil on your pillow or into a diffuser and prepare to zen out. You can also massage some of the oil onto the reflex points of your feet for the ultimate dose of relaxation.
Tired of getting nail polish literally everywhere while you're giving yourself a manicure? Tweexy is here to the rescue. You can wedge your bottle into this comfortable, wearable holder and then give yourself a clean, polished paint job.
Hair removal can be annoying, expensive, and exhausting. This facial hair removal kit is about to make things a whole lot easier. It promises to remove hair at the root for up to six weeks and can be used on tricky areas like the upper lip and chin.
This translucent face powder does all the work for you. It covers up blemishes, reduces oil, and gives you a matte finish. Wins all around.
Speaking of multitasking, this Moroccan Argan Oil does it all. It promises to help repair your hair, hydrate your skin, strengthen your nails, and treat acne.
Now, go get your discount beauty shopping on. Your wallet will thank you.
We may earn fees from purchases made via links on this page and affiliated sites. All opinions are our own.
This article was originally published on