Woman Dancing At NBA Game Goes Viral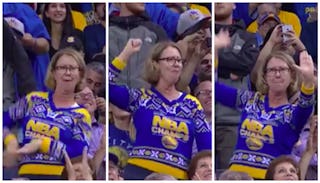 Image via Bleacher Report/ Twitter
Woman dancing in the stands at an NBA game goes viral
What day is it, does anyone know? This week has been uniquely exhausting. Or are we the only ones dragging our blankets around like a cloak? Just us? Okay.
Anyway, a little pick-me-up never hurt anyone and yours is coming today in the form of a woman with the most amazing moves, ever. She's getting her groove on, and you're not stopping her.
This is what they mean when they say, "Dance like no one's watching."
Whose mom is this? That's the question the Bleacher Report asked two days ago. The video has since been viewed 28 million times because we all need this right now.
Don't we? Here's a little Vogue-ing to make your morning better.
The best part of this is that no one around her is even noticing this dancing phenom.
This is our wish for you today… a day of feeling as good as this woman.
And by the way, her team didn't win. This could be a metaphor for all of us right now. We need to find our joy, STAT.
This article was originally published on