Mom-Shamers Slam 'Bachelor' Star For Putting A Bow On Her Infant Son
by Cassandra Stone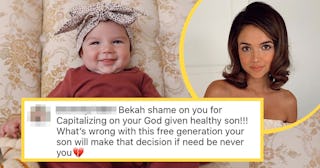 bekah/Instagram
Bekah Martinez is not here for trolls and their gender stereotypes
Earlier this week, former Bachelor star Bekah Martinez shared an adorable photo of her infant son, Franklin, on Instagram. In the photo, Franklin was wearing a bow. Because Franklin (presumably) has a penis, everyone freaked out and let her know that penis-havers shouldn't be wearing bows because even at just three-and-a-half months old, he will be "confused."
Sigh. Anyone else exhausted over this stuff yet?
Many people basically accused Martinez of posting it for controversy clout and attention, which, who can say? Maybe she did. She's admitted she likes to rile people up on social media. Or maybe she just doesn't give AF about tiny baby boys wearing bows.
https://www.instagram.com/p/CGQqKh2J65J/
The comments ranged from "that's girly" to "OH MY GOD YOU'RE GOING TO GIVE HIM PERMANENT PSYCHOLOGICAL ISSUES AND AN IDENTITY CRISIS BEFORE HIS FIRST BIRTHDAY, PLEASE STOP DOING VAGINA THINGS TO A PENIS BOY."
Okay. Let's take away the intent behind the post, because honestly who gives AF why she posted it? And let's go ahead and re-hash, for the zillionth time, why we need to stop worrying about what's for girls vs. what's for boys. Because those things do not exist. Colors, accessories, clothing, and toys are for EVERYONE. Period.
And to shame a boy for wearing a bow is gross for many reasons. The entire concept of "gender-neutral" in terms of kids clothing, toys, and accessories is one of those things that sounds great in theory but is actually very poorly executed. Because items that are categorized as "neutral" usually skew masculine and play into "boy" stereotypes, right? Think about it. When we're buying outfits and toys for pregnant people and the genitalia of the fetus in question is unknown, and we're told to buy "neutral" things — they're grey. Or navy. Or green. Pink is not considered "gender-neutral." Nor purple. Neither are things with bows, ruffles, lace, etc. Sometimes yellow, but more often than not, even yellow is "too feminine." Basically, the commercialization of "gender-neutral" just says "boy stuff is for all kids, but girl stuff is for girls and it's bad."
If Martinez had shared a photo of her daughter in a navy blue and red "future rocket scientist" t-shirt, or carrying her favorite dinosaur or dump truck, everyone would coo and say "aww, how awesome." But because her son was wearing a bow, everyone clutched their chests in agony and felt compelled to share their horror. Interesting!
Martinez addressed the issue in an Instagram story, she said she always seeks to challenge people on what they believe you should or shouldn't do.
"I think in this particular instance, I think we should normalize being able to put boys in bows and things that are 'girly,' " she said. "What the f*ck is 'girly' about a bow? It's literally a piece of ribbon or fabric tied in a certain way. That's dumb. Anyway, that's all."