Gorgeous Italian Baby Girl Names For Your Bellissima Bambina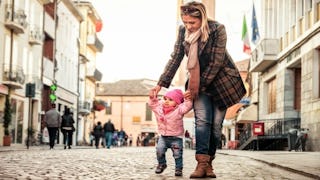 LucaLorenzelli/Getty
Italy is a popular tourist destination, and it's not hard to see why. The place is breathtaking, and the people are charming — just like your daughter will be. Italian girl names reflect the wonderful aspects of this endearing locale.
Whether you want to honor your Italian heritage, or you're just a huge fan of the country and culture, this list will help you choose an Italian girl name that's simply perfezionare.
These Italian girl names have an undeniably feminine feel, as romantic and beautiful as the land they come from.
Naming a baby can be scary. We can help! Check out our baby name database here.
Alessandra
Alessia
Allegra
Angela
Annabella
Antonella
Antonia
Araceli
Ariana
Bianca
Briella
Carmella
Cecilia
Daniela
Eleanora
Emilia
Francesca
Gabriella
Gia
Gianna
Giovanna
Giuliana
Isabella
Juliana
Lilliana
Lucia
Luciana
Luna
Marcella
Natalia
Paola
Regina
Renata
Siena
Sophia
Stella
Teresa
Valentina
Violeta
Viviana
This article was originally published on