Photographer Captures Baby Girls Dressed As Disney Princesses
by Valerie Williams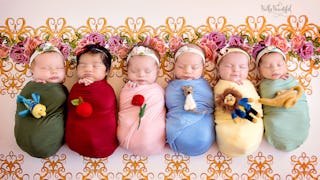 Image via Karen Marie/Belly Beautiful Portraits
Photographer captures baby girls dressed as Disney princesses for photo series
Do you need a dose of ridiculously adorable today? Well, we've got you covered with the ittiest, bittiest, teensiest princesses in all the land.
Photographer Karen Marie of Belly Beautiful Portraits created a series of photos of six infant girls dressed as Disney princesses from all our favorite movies (now available to stream on Disney+ for $6.99 a month). The shoot took place at her studio in Roseville, California and is basically the most adorable thing to ever adorable.
Is she even kidding with how perfectly precious these mini princesses look? My ovaries are staging a revolt right now demanding one more baby just so I can make this newly found dream come true.
Karen staged settings for each tiny princess complete with character-appropriate costumes courtesy of Valerie Best of Sew Trendy Accessories. And boy, did they nail it.
Look at that magical little gown. And the forest creature pals watching over her. We can't even.
Karen came to the idea of gathering a collection of baby princesses to photograph because of her own love of Disney. She tells Scary Mommy, "Disney princesses have always held a special place in my heart. Having two daughters of my own who are now 12 and 10 and not into the princess thing anymore, makes me miss that stage!"
Ugh. Looking at these photos, we don't blame her for being wistful.
Look at the wee little Dinglehopper, you guys. LOOK AT IT.
Karen tells us her Disney princess photo dreams were realized with a little help in the costume and prop department. "I had the idea and partnered with Sew Trendy Accessories to theme some newborn dresses and Wooly Dreams for the felted flowers and animals. We started with a few princesses, but have more shoots planned very soon!"
We're so glad to hear it because we need All The Baby Princesses.
The sweetness is simply too much to bear.
We asked Karen what other characters she has planned for the future and now we're crazy excited. "Tiana, Mulan, Moana, Elsa and Ana, Pocahontas and Merida from Brave to just name a few," she says.
For now, we'll have to be satisfied with these little lovelies.
Baby Jasmine napping on her flying carpet, no big deal. We're not at all dying of cuteness overload.
"The session itself was fun but it isn't easy with 6 newborns. My staff was wonderful in helping the shoot run successfully," she explains.
We imagine actual princesses are pretty fussy little customers. Luckily for them, they're also too sweet to get mad at.
That dress, though.
As far as the parents of the tiny ladies involved in the shoot, Karen tells us they're nothing but thrilled with the experience. "One mother wrote to us and said she can't wait until her daughter is older to see what she was a part of."
Because what kid wouldn't be amazed to find out they were once baby royalty?
Karen says, "Most little girls dream of being a princess and now I'm being called the 'fairy godmother'."
Judging by these photos, that name couldn't be more perfect.
This article was originally published on