People Nationwide Are Celebrating An Overt Racist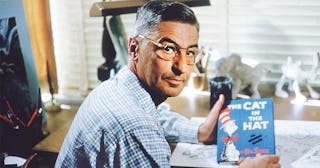 Gene Lester/Getty
When I was in elementary school, The Cat and the Hat and Green Eggs and Ham were two of the most popular children's books. If you grew up in the '80s or '90s, I bet you can recite a few lines from the books like I can. Teachers read them aloud to their students and parents read them to their kids at bedtime. The lucky few kids had parents who would drip food dye into eggs, serving their children literal green eggs with a side of ham. Dr. Seuss was, and still is, one of the most celebrated children's book authors and illustrators of all time.
However, in 2019, an article dropped that had some Seuss fans reeling. The title alone was startling. The Cat is Out of the Bag: Orientalism, Anti-Blackness, and White Supremacy in Dr. Seuss's Children's Books gained popularity when shared by The Conscious Kid, a popular website dedicated to "reducing bias and promoting positive identity development in youth." Soon the article, authored by Katie Ishizuka and Ramon Stephens, was blowing up my feed. Could it be true? Was the beloved Dr. Seuss racist?
The authors found that during Seuss's extensive and successful career, he published "hundreds of racist political cartoons, comics, and advertisements" that targeted people of color and marginalized groups, including Jews and Muslims. It's one thing to read this claim, but for me, the proof was in the pudding.
Some of the images Seuss created are blatantly racist, including black and Asian people illustrated with stereotyped, exaggerated features or as animals. For example, the authors site examples in which Dr. Seuss portrayed black people as monkeys, cannibals, and gorillas. He also freely dropped the n-word in captions in several of his cartoons.
His racism wasn't limited to political cartoons meant to intrigue and entertain adults. In Seuss's 50 children's books, he had 2,240 characters, 2% of which were people of color. Of these, most characters were portrayed in manners that matched the definition of Orientalism. Orientalism is presenting East Asian and Middle Eastern characters in "exotified, stereotypical, and subservient" images and text.
So why is it that every March, schools and stores across the country celebrate Dr. Seuss's birthday? Why are our kids doing Seuss-inspired crafts in their classrooms, and why do stores dedicate massive book displays dedicated to the author? My guess is, most people don't know that Seuss apparently loathed many of the people, both adults and children, who read his books.
I can't get out of my head the image of the oldest animated version of the Grinch. You know, the one where his sinister smile just grows and grows. We've all been tricked for so long, but we can't hide behind our ignorance anymore. The reality is, Thing 1 and 2, Cindy Lou, and Sam-I-Am were created by someone who openly demonstrated that he was superior to people of color.
Seuss has become so ingrained in our culture and infiltrates not only libraries and television screens, but also clothing. This month you can find Seuss characters on children's shirts and dresses. I've seen countless parents throwing their young kids Seuss-themed birthday parties and creating Seuss-inspired Halloween costumes. There's an entire museum—with three levels of displays and activities–in Massachusetts dedicated to the author and his works. The nostalgia is real and powerful. Parents yearn to pass on the endearing Seuss love to their children.
Once I learned the truth, after reading the article in full, I purged our home of any books we had of his. I couldn't bring myself to curl up in my black child's bed and of all the books in the world, choose to read them Oh, the Places You'll Go or One Fish, Two Fish, Red Fish, Blue Fish. Instead, we filled our children's bookshelves with books authored by people of color who wrote about children of color in positive lights.
When I learned that the summer theater camp my daughter attends planned to put on Seussical the Musical, I emailed the director with my concerns—twice—including the link to the tell-all article. I got nothing in reply but crickets. I honestly don't know if I was dealing with a serious case of white fragility or my e-mail went to spam.
I decided not to let my child participate, telling her she'd need to choose another camp for that summer. Even for her, someone who didn't grow up reading much of Seuss's works, she had a hard time wrapping her mind around why someone so accepted and presented as fun and positive in American culture could be wrong. After all, the guy has a Hollywood Walk of Fame star, a Pulitzer Prize, multiple Caldecott Honors, and several successful movies based on his books. Could he really be that bad?
In 2017, Read Across America, a nationwide children's literacy program, announced that they'd be stepping away from promoting Seuss's works to focus on more diverse reading materials for their participants. This is a huge deal, considering that 45 million student and teachers take part in the program's events every year. For 20 years, Seuss's Cat and the Hat was at the center of the campaign.
I've had people tell me that the racist unveilings are no big deal. That's just how it was back then, they've said to me. I've also been told that kids don't need to know about Seuss's past transgressions, that we should just let kids be kids and not spoil their fun with our criticism and concerns. My response is that racism has never been OK, and I refuse to teach my black children to just grin and bear it. Whether dead or alive, a white male's supremacy is unacceptable.
I get that the thought of breaking up with Dr. Seuss might make you sad. It made me sad, too. My siblings and I wore out our copy of Green Eggs and Ham to the point that it was barely held together by thick packing tape. The truth hurts, doesn't it? But as parents, it's our responsibility to make sure our kids are rejecting racism—here, there, and everywhere.
This article was originally published on