Ben Affleck On Why He Went To Rehab: 'I Want to Be the Best Father I Can Be'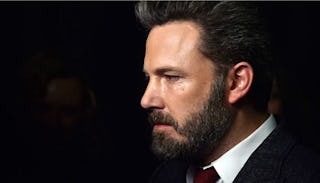 Image via ALAIN JOCARD/Getty Images.
The actor penned an emotional post on Facebook this week
Oscar-winning actor Ben Affleck recently completed rehab for alcohol addiction in the hopes of becoming a better dad. "I want to live life to the fullest and be the best father I can be," he wrote in a forthright Facebook post.
The 44-year-old actor has three children with Jennifer Garner – Violet, 11, Seraphina, 8, and Sam, 5. The couple separated in 2015 but haven't divorced. "I have completed treatment for alcohol addiction; something I've dealt with in the past and will continue to confront," the post starts out. "I want my kids to know there is no shame in getting help when you need it, and to be a source of strength for anyone out there who needs help but is afraid to take the first step."
Watching a parent struggle with addiction changes your life forever. My dad finally stopped drinking when I was 12-years-old. He was what they call a "fun drunk" — most of the time — but that's the thing about addiction, it's never just harmless fun. It's never just happy hour once a week with the gang from the office or just a glass of wine with dinner. My dad went to rehab, too, before he finally gave up the booze for good. Our house finally felt peaceful when he stopped drinking. And while I didn't realize it at the time the lesson my brother and I learned was that at any moment we can each make the decision to be a better version of ourselves. If we put in the effort we can make up for our past mistakes, or, at the least, stop making new ones.
Despite the overwhelming joy and love children bring into our lives, being a parent can be scary at times. All of a sudden you're responsible for a tiny human, and that can be a lot of pressure for an addict who hasn't gotten a handle on their addiction yet. Being a parent also means being brave and loving your kids above all else, which is great motivation for getting and staying sober. Affleck's kids deserve an attentive dad they can rely on and he deserves a healthy and happy life. It's great that he got the help he needed, and we're thankful he decided to speak so openly about it. Who knows how many people he's reaching by sharing his story.
"I'm lucky to have the love of my family and friends, including my co-parent, Jen, who has supported me and cared for our kids as I've done the work I set out to do," he wrote. "This was the first of many steps being taken towards a positive recovery."