Benedict Cumberbatch Is Handling Hollywood's Gender Pay Gap The Right Way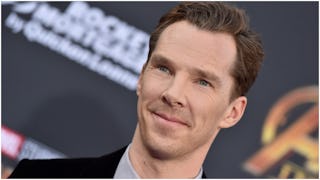 Image via Axelle/Bauer-Griffin/Getty
He's fighting for his female co-stars to earn equal pay
There's a lot of reasons to love Benedict Cumberbatch. Here's yet another one for your list. The actor is now demanding that his female co-stars be paid equally to him, which is pretty much the most proactive, thoughtful move that any male actor working in Hollywood can make right now.
Time and time again, we've heard stories about Hollywood's repulsive gender pay gap. Michelle Williams was offered $1,000 to reshoot scenes from All The Money In The World, while Mark Wahlberg was given $1.5 million. Hoda Kotb replaced the disgraced Matt Lauer on The Today Show, and is making millions less than him. Jennifer Lawrence and Amy Adams earned significantly less than their American Hustle co-stars Christian Bale and Jeremy Renner (despite the fact that the two actresses have just as much clout in the industry).
While the progress on this issue is slowly coming along with networks like HBO fixing its gender pay gap, Cumberbatch's move is still a significant one. "Equal pay and a place at the table are the central tenets of feminism," the actor told Radio Times. "Look at your quotas. Ask what women are being paid, and say: 'If she's not paid the same as the men, I'm not doing it.'"
The actor is also pushing for more female-driven stories and, again, is it truly even possible to love this man more?
"I'm proud that [partner] Adam [Ackland] and I are the only men in our production company; our next project is a female story with a female lens about motherhood, in a time of environmental disaster," he said.
There's currently a large party happening for Cumberbatch over on Twitter, and many are applauding the actor for his decision. I guess we're pretty much all Cumberbitches now.
While Cumberbatch is the only actor who has publicly taken this stance, there are some male actors who have been showing solidarity behind-the-scenes. Emma Stone told Out Magazine that her male colleagues have actually ended up turning down salaries that were offered to them.
"In my career so far, I've needed my male co-stars to take a pay cut so that I may have parity with them. And that's something they do for me because they feel it's what's right and fair," she said. "That's something that's also not discussed, necessarily — that our getting equal pay is going to require people to selflessly say, 'That's what's fair.'"
Wow. Hopefully, we'll reach a point where everyone is paid fairly and without discrimination. In the meantime, we need more male actors to step up and do the right thing.