Do Your Kids A Favor: Take Them To Their Local Library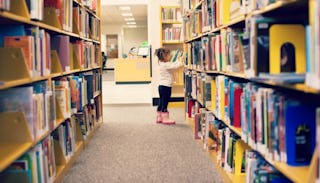 ipekata / iStock
I remember the marble stairs, cool to the touch even on warm days in the poorly air-conditioned building, stretching out in front of me like a portal to a magical world. They were white, with veins of gray swirling through their surface like tendrils of smoke. So fancy, so sophisticated, unlike anything else in my tiny rural-Midwestern hometown — I couldn't suppress a feeling of reverence as I climbed them. Those stairs, leading to the main floor, were the first thing I'd see every time I eagerly pushed open the heavy double doors of our local library (which was often, since I was a bookworm at heart and only lived a few houses down).
And as I reached the top, the second thing I'd see was the expansive checkout desk, and the warm, welcoming smile of Susan, the librarian. Through the years, Susan suggested books, special-ordered titles she knew I'd like, and pointed me to the right spot in the reference section whenever a school project was due. I was familiar with all the nooks and crannies in that building, and can still mentally conjure up that dusty, old-paper smell.
Our library may have been small, but it made a sizable impact on my childhood, and I'm still a huge advocate of public libraries today, which is why my own kids have had library cards since before they could read. Whether it's a tiny old building in a sleepy little town, or a sprawling institution in a metropolis, your local library can give your whole brood benefits that go far beyond books.
They offer a ton of free education and entertainment, for all ages.
From family movie nights to after-school STEM clubs to knitting circles to genealogy classes to living history demonstrations to Lego building sessions, your library is a treasure trove of stuff to do. Best of all, it's usually free because libraries want everybody to have access to their awesome opportunities. Which brings us to the second amazing benefit of libraries …
They're inclusive of diverse populations.
Libraries have something for literally every type of patron: disabled or differently-abled, LGBTQ, unicorn enthusiasts, or deep-sea fishing aficionados. Regardless of your ethnicity or socioeconomic status, the library is an equal-opportunity provider of information and support — not just to those who can afford to pay for it. Power to the people!
They build community.
Because of its inclusive nature, and the fact that it's a hub for all things information, and hobby-related, your library is a fantastic place to meet people and foster a sense of community togetherness. I can't tell you how many other moms I've met through my local library's preschool story time (and now all the children's librarians come to the fitness classes I teach at the gym). It's a safe and welcoming place for seniors to connect with other seniors, teens to hang out, and kids to play with other kids — both likeminded and vastly different.
They teach kids about sharing.
Checking out a book is a simple act, sure, but the very act of doing so teaches kids an important lesson in sharing resources and taking care of things. When they check out a book, they're being entrusted to handle community property and treat it gently so they can in turn pass it on to the next lucky reader.
They introduce kids to the arts — and to the artists.
Libraries are the champions of culture, and that doesn't stop with books. Art exhibits showcase paintings and pottery, sculptures and textiles. Musicians perform intimate concerts. Authors sign books and do poetry readings. And since many of these artists are local, kids gain an appreciation for the culture in their own communities.
They foster literacy and improve academic performance.
Through avenues like story times for young kids, summer reading programs, tutoring, homework help, fun reading contests, and writing workshops, libraries help to strengthen school performance — and to bridge gaps for those whose economic status doesn't afford them many extra educational opportunities.
Taking kids to the library is fun, but that's just a short-term benefit. By taking advantage of our local library and its many facets, we're showing our children that information matters. The arts matter. Community matters. Continued education matters. Diversity matters. It's actually kind of ironic when you think about it: There's no better jumping-off point to teach them about the wide, varied world than a place that's conveniently located close to home.
Support your local library.
This article was originally published on