Anonymous Man Hiding $100 Bills In Diaper Boxes Is The Hero We Need Right Now
by Valerie Williams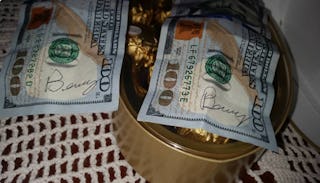 Image via Twitter
"Benny bills" have been found all over Salem, Oregon since 2013
If you've been reading the news lately, you'll know that not much of it is good. Between deadly mass shootings, terrifying election coverage and those awful memes your racist uncle keeps posting you might be ready to set your phone on fire and live off-grid. But before you do, read this story about a mystery person who has spent the last few years leaving surprise $100 bills around Salem, Oregon. He is the hero we need right now in this seemingly awful world.
According to The Huffington Post, a benevolent angel of a human who refers to himself as "Benny" has been hiding $100 bills inside everything from diaper boxes to baby toys. Salem-based newspaper the Statesman Journal tracks all reported "Benny bills" (he signs his name to each one) found and they now total a staggering $50,000.
This total has accumulated over the last three years since the first reported findings in May 2013 when local Cub Scout troops were on the receiving end of $900, all in $100 bills. The reporter from the Statesman Journal who tracks the bills started calling him "Bennie" and shortly after, the anonymous benefactor began signing the bills with that name but changed the spelling to "Benny."
And as time went on, a pattern emerged; people who found Benny bills found them at a time of real need. Brittany Medina, a 23-year-old mother of three, found one after opening a can of baby formula. It was right before Christmas, and the little boost was enough to help her buy presents.
Some people take to social media to share their finds, like this family who got one just yesterday, left on the seat of their car.
Other residents point out that the bills are sometimes found in waves, particularly when the news is dominated by awful stories. That hypothesis is strengthened by the fact that 86 bills were found last month, a record for Benny. And of course, with the Orlando nightclub shooting and other stories of violence in the news lately, it seems Benny is doing what he can to spread a little hope and joy during a time where things are seeming bleak.
Happily, the story doesn't end with a bunch of lucky people happening on $100 and moving on with their lives. Benny's generosity has inspired many of his recipients to pay it forward, with reports of those finding the money deciding to donate it instead of spending it on themselves. So far, 238 people have told the Statesman Journal that they donated their money with animal rescue groups, food banks and schools being the most frequent beneficiaries of Benny's bucks.
$100 bills here and there may seem like a small thing in a world where so much is going wrong, but the ripple effect of one person's generosity and the general good feelings his gifts generate probably impacts society more than anyone realizes. Even without discovering one of these bills, just reading about it could inspire others to similar acts of kindness.
And it goes without saying, that we need that now more than ever.
This article was originally published on