A Day In The Life of a Bereaved Parent
by Cindy Campbell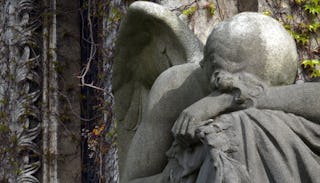 I am approaching the two-year anniversary of my son's death. Ty died of cancer 13 days after his fifth birthday, following a long, painful fight. He left behind me, my husband, Lou, and his little brother, Gavin (who is now five-years-old himself).
I have been doing well. As well as can be expected. Like many parents who share these painful shoes, I started a nonprofit so I can feel closer to him and leverage my new-found priorities in life. For years I was surrounded by cancer, and caring for my sick child consumed every second of every minute of every hour of every day. After he died, I was robbed of my purpose and left with nothing but a numb silence. As if a ringing in my ear – my daily anxiety, fear, hope, faith, determination – had stopped. That sudden, painful silence is laced with grief… void… absence… and I desperately try to fill that void by surrounding myself with cancer again. It's the only way I can feel like I am still taking care of him. It's a futile attempt to help me feel less of a failure for letting him die.
I would trade anything to have the ringing in my ear back. To live within the walls of the hospital; resting on a cold, hard, pull-out chair but never really sleeping. Living with such tremendous resolve because he needed me and only me to hold his hand and tell him everything would be okay. I was the most important person in the world to that perfect little boy, as he was to me.
When I'm not numb I am in pain, or melancholy; sometimes I am happy and surprised by the normalcy of my day. Grief comes and goes at various levels with every passing day, but it is always there and it never leaves. It has become an invisible companion in my daily life that may sit quietly on my shoulder tickling my ear, or roar wildly and violently from within the depths of my soul where I can physically feel it tearing away at my gut. You can't see it. No one can. But believe me, it is ever-present.
Each morning I wake up and for those milliseconds between sub-conscious and conscious I am unaware of my grief. But as I attempt to lift my head and rise out of the bed, the weight of my loss tries to hold me down like a lead blanket. I get up, and I drag it with me across the room. On my way to the bathroom I see his beautiful picture on my dresser, next to his urn. Sometimes I smile and whisper "good morning," sometimes I shudder and hold back the tears for a fraction of a second before I get my bearings, and once in a while it still sends me into a tailspin where I can't stop crying and feel the hopelessness of the day ahead of me before it has even begun.
But I have to get Gavin ready for the day, so I head down the hall. I walk past Ty's bedroom – the door is closed – he isn't there. I make a cup of coffee and think of Ty every single time I stir the cup, because that used to be his job. When he was three years old we started a morning routine where he used to say he wants to put the "wub" (love) in my coffee. He would help spoon in the sugar, pour in the cream, and stir it up for me. When his tumor caused him to be disabled from head to toe, I would bring the coffee to his side of the couch and hold his hand along with the spoon, carefully spooning the sugar, pouring the cream, and stirring the coffee. I wasn't going to let cancer take that away from us.
My younger son fills me with tremendous joy. I make him give me "morning hugs" and I hold on a little too long. I tousle his bed head a little too much. I kiss his lips all too often. I always pick him up even though he's way too big to be carried around. I stare at him and cater to his every whim (I want cereal, no bagel, no toast with honey, PANCAKES!) and I deliver his breakfast where he sits in the corner of the couch. Ty's spot. The perfect nook in our couch for watching TV and participating in busy family life has been re-occupied by Gavin. I remember what it looked like when Ty was sitting there instead, resting on his Spiderman pillow with his blue "Nana blankie." I forgot the drink, so I return to the kitchen for apple juice. I open the cabinet to get a cup for Gavin and the shark water bottle topples out. I can hear Ty's voice "I wub my shark cup" and reminisce about the day that he picked it out in CVS.
Two years later, I still come across pieces of him. Buried under a stack of construction paper I discover a sheet covered with his stickers and scribbles. I cry and slip it back into the pile so I can find it again. In my junk drawer, under the organizing tray, a piece of paper with my hand written instructions and diagrams on how to administer medication from that time we escaped on a long overdue date night. I leave it there though it serves no purpose. I turn the pages on a small notepad in my car to make sure I wasn't forgetting anything at the supermarket and come across some phone numbers of doctors and therapists that I was referred to during my desperate crusade to save my son's life. I watch as Gavin plays with toys that used to belong to his brother day in and day out.
After work I take Gavin for a swim in the pool. I want to enjoy these last days of summer and make special memories with him before school starts. We have so much fun, and my laughter is genuine. I am filled with pride, because Gavin is such a beautiful gift. I watch as he tries so hard to swim, but his fear gets in the way. I think about how different Ty was, and how before he got sick my little daredevil would have been swimming like a fish. I try to picture Ty as a seven year old boy, running and jumping into the deep end to give his little brother a big splash as I know he would have. That vision in my mind is the most beautiful thing in the world. It's something I do whenever I feel like we are having fun without him. When I'm snowboarding, I imagine Ty on the mountain next to me practicing his wedge. When I'm at the beach, I imagine him building sand castles and braving the waves. When we take a vacation I picture him by the pool or walking beside me in a new city. I carry him with me wherever I go.
I recently came to the realization that time has not stood still. In fact, a lot of time has passed since losing Ty, but for me and my husband those days were spent in a vacuum where the only proof of the ticking clock is found in pants that are 2 inches too short on his brother. Gavin is now older than Ty has ever been, yet I can't imagine Ty being anything but the big brother. In just a few short days he will get on a school bus and ride to his first day of Kindergarten. "I bet you wish you had a brother to ride with you on the school bus," his little friend told him. Kindergarten is a huge milestone that his brother never got the chance to experience, and yes… yes we all wish he had his brother to show him the ropes.
Back-to-school is harder than Christmas. I watch the pictures posted to Facebook for weeks on end, and it reminds me of what I have lost, and what my son was robbed of. I can't find the words to describe just how much that hurts. How each photo, and what it represents, sends a sharp and intense pain directly to my heart.
I can't enjoy Gavin's first day of school the way the other moms can. Because there will never be a special day or achievement that he experiences, that isn't overshadowed with the thought of Ty and the regret that he never got to experience such an accomplishment. This is not a choice, and it fills me with tremendous guilt knowing that Gavin has to share every milestone with the grief on my shoulder.
In an everyday conversation with strangers the question often comes up "how many children do you have?" Sometimes I answer this way, sometimes that way, sometimes I don't honor my son at all in an effort to avoid an uncomfortable conversation and to spare the other person. They won't know what to say. They may react in a million different ways from offering meaningless platitudes to a barrage of questions. They say the wrong thing and that's okay, because there really is no "right" thing to say. A simple "I'm sorry" is the easiest response for all parties involved, but knowing the depth of the pain that goes along with losing a child – it certainly falls short and never sounds like enough.
The little mom-to-mom conversations about what this naughty child said or that teacher's approach to common core. Ideas about creative ways to get our kids to eat vegetables. I'm not ready for that. I just don't care. That simple truth sounds pretty terrible when I say it out loud, though, so I nod and smile and listen while my head spins with memories of surgeries, infections, hospital stays and what he looked like before he died – but that is a perspective I can't share during small talk at the playground. I keep it to myself and share only with my husband, or with other moms who are walking the same path I am.
At night I grab my toothbrush that still sits next to his in the cup. I can't seem to put that away even after all this time. Most nights it doesn't bother me, or I ignore it, but every once in a while I pick it up and surprise myself at how much I still want to put it in my mouth – to try and connect with the little physical specs of his body that are still here, petrified on that toothbrush.
My husband and I can't comfort one another because we both know that there is no way to fix this. I watch him kiss Ty's ashes before he gets into bed each night, and we sleep with a "Ty doll" in between us. I realize how strange this sounds, but from the very first day of diagnosis we slept with Ty in between us to make sure he was okay throughout the night. When he died, a package arrived for Gavin with a handmade doll that resembled Ty with golden curls of yarn and green eyes painted onto the fabric. It was an odd gift, but it made us smile. We placed the doll on a chair in our bedroom and Lou started putting it in our bed each night soon after. Sometimes I wake to him sobbing next to me, sometimes he can't sleep because I'm doing the same. Some nights we go to bed happy, talking about Gavin or other good news that may have come our way. Our best nights are when we let Gavin enjoy the late summer nights with us, and we all retreat to our big bed together. Gavin in between us. Saying prayers together in his adorable voice, feeling his hair against my face throughout the night and smelling his sweet breath as we all drift off to sleep. That is the best way to end a good but imperfect day.
There will never, ever be a "perfect day" in the life of a bereaved parent. That is a fact that doesn't get better or go away with time. We heal, we learn to cope, and we find a greater happiness in the simple things that others will never know because they can't understand it in the context of such loss and grief, but it can never be fixed and it will never go away.
I miss my son.
This article was originally published on