Bernie Sanders Has A Plan To Wipe Out $81 Billion In Medical Debt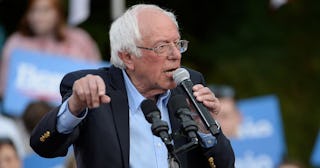 Sara D. Davis/Getty Images
Bernie Sanders unveils a proposal to eliminate $81 billion in United States medical debt
Three months after Bernie Sanders vowed to eliminate the country's $1.6 trillion student loan debt, the Democratic presidential candidate wants to wipe out medical debt as well. On Saturday, September 21, 2019, Sanders laid out his plan to eliminate $81 billion in past-due medical bills as well as his plans to revamp the system moving forward.
"Right now, medical debt is the leading cause of consumer bankruptcy in America. In fact, 66.5 percent of all bankruptcies are connected to medical issues — both because of the skyrocketing cost of care, and because of a patient's time away from work and the subsequent expenses and lack of income," according to Sanders's campaign. "Studies show that 500,000 people are bankrupted by medical expenses each and every year — and the true number may be far higher."
He's not wrong. Chances are that you yourself have, or know someone who, filed for bankruptcy to manage an outstanding medical bill.
Here are some of the things Sanders plans to do to combat the medical debt crisis if elected president.
The federal government will negotiate and pay off the balance for the $81 billion in existing past-due medical debts.
Put a cap on how often debt collectors can contacts patients.
Reform the 2005 bankruptcy bill and prohibit "evictions, utility interruptions, wage garnishments, and other practices that can inhibit day-to-day life for people facing debt collection."
Create a public credit registry to replace for-profit credit reporting agencies that would exclude all debt related health costs from any credit reporting.
In other words, if you've already filed for bankruptcy related to medical care, Sanders wants to pay it off and ensure that it doesn't affect your credit score moving forward.
"It is immoral and unconscionable that families across the country are finding themselves nearly broke or bankrupt because of crippling medical debt while the health care industry made more than $100 billion in profits last year," Sanders said in a statement (via The Hill). "My administration will take on the greed of the health care industry and end the epidemic of medical debt in America."
Per Reuters, Sanders plans to pay for his medical debt proposal with a "tax on corporations based on their pay for chief executives." More details about this proposal will hopefully be unveiled at his town hall on Sunday in Iowa.
This new plan pairs well with Sanders's tentpole policy: Medicare for All. His Medicare for All plan would give health insurance to everyone, a 'la the United Kingdom's National Health Service. Under his proposed government-provided healthcare system, Sanders plans to eliminate premiums, deductibles, and co-pays, which would, of course, be subsidized with higher taxes.
Head to Sanders's campaign site for more information on his medical debt proposal.