You Can Now Wear The Bernie Sanders Inauguration Meme As A Sweatshirt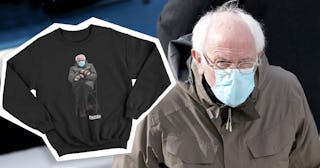 Greg Nash/Getty and Berniesanders.com
Bernie Sanders is selling the sweatshirt in his campaign store for $45, and all proceeds go to charity
Unless you've been living under a rock this week (and if you're a Trump supporter, you probably have been), you're familiar with the Bernie Sanders inauguration meme. Mask, check. Homemade mittens, check. Sensible winter coat from Burlington Coat Factory, check. "Let's get this over with because I have a dozen errands to run" expression, CHECK. Great news: you can now wear the famous meme as a sweatshirt.
Sanders' staff wasted no time turning the globally popular meme of the politician on Inauguration Day into a marketable product — but because it's Bernie, 100 percent of the proceeds will go to Meals on Wheels in Vermont.
His wife, Jane, confirmed the proceeds would be going to charity on Twitter:
The dark-gray, crew neck sweatshirt featuring the photo of a masked-up Sanders can now be purchased for $45 from his campaign store online.
The sweatshirt is crafted from 100 percent combed ring-spun organic cotton fleece, according to the description.
Because of the overwhelming popularity of the meme resulting in an overwhelming demand for the sweatshirt, Sanders' site warns buyers that it might be "a few weeks until you receive your sweatshirt."
In a statement this week, Sanders said he was happy the meme "makes people aware that we make good mittens in Vermont…we have some good coats as well."
The maker of the mittens is a school teacher from Vermont who gave Sanders the mittens while he was on the campaign trail. She's also seen an enormous demand for the mittens (and, honestly, they're perfect and we should all be so lucky to warm our hands in such lovingly-crafted hand-wear). Sadly, they're no longer for sale.
"Thanks for all the interest in Bernie's mittens!" Jen Ellis wrote on Twitter. "I'm so flattered that Bernie wore them to the inauguration. Sadly, I have no more mittens for sale. There are a lot of great crafters on ETSY who make them."
Per CNN, the mittens are made from repurposed wool sweaters and lined with fleece made from recycled plastic bottles, and Ellis had no idea the senator would begin wearing them to high-profile events. But the fact that he does, and did, is basically just one of the many reasons people love Sanders.
And though Inauguration Day was a feast for the eyes when it came to the jewel-toned coats worn by Vice President Kamala Harris, FLOTUS Dr. Jill Biden, former FLOTUS Michelle Obama, and poet Amanda Gorman, it was Sanders who was asked about his fashion sense by Gayle King on CBS This Morning.
"In Vermont, we know something about the cold, and we're not so concerned about good fashion, we want to keep warm," the senator said with a laugh. "And that's what I did today."
And now so can we, by buying the sweatshirt and ensuring the good people of Vermont get a hot meal.