These Audiobooks Are Essential For The Next Family Road Trip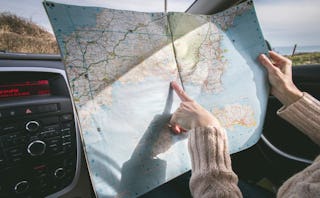 Pexels
Are you heading off on a road trip but looking for the perfect audiobook to play on your journey? Whether you're taking a day trip on your own, or driving cross-country with the entire family in your minivan, we've compiled a list of the absolute best audiobooks to play on your next adventure. Read on for our top picks!
50 Great American Places: Essential Historic Places Across The U.S. by Brent D. Glass, narrated by Norman Dietz
This charming audiobook is actually perfect for family vacation-style road trips. It will take your car full of curious travelers throughout the nation's history, from old sites like Mesa Verde in Colorado to new, hot spots like the Mall of America in Minnesota.
The Power of Now authored and narrated by Eckhart Tolle
This gorgeous classic is the perfect thing to stream while on a road trip. It will inspire all listeners to focus in on the now, and learning how to appreciate the present moment to the fullest extent. It's a great reminder for anyone, at any age, especially timed with embarking on an adventure!
Don't Make Me Pull Over by Richard Ratay, narrated by Jonathan Todd Ross
This ideal family road trip audiobook describes the informal history of the family road trip. It's not so much about taking a road trip as it is about surviving one.
Turn your next road trip into a whimsical ride with the audiobook version of award-winning children's book, Matilda! It's narrated by Kate Winslet, which makes it addicting to listen to. Kids and adults alike can enjoy the magic of Matilda next time there's a family day trip and entertainment is needed.
This entertaining, yet educational audiobook school listeners on thoughts regarding the history of literally everything, from the Big Bang Theory to the rise of civilization. Buckle up and get ready to have your mind blown.
Alice in Wonderland by Lewis Caroll, narrated by B.J. Harrison
Crank the volume and go on a journey with Alice, from chatting with a caterpillar to attending the infamous mad tea party. Narrator, B.J. Harrison, delivers a whimsical performance and brings to life all of the different characters of Wonderland.
Yes Please by Amy Poehler, narrated by seven personalities, including Amy Poehler, Carol Burnett, Seth Meyers, Amy's parents, and more
It will sound just like you've got a group of friends in the back seat when this audiobook by comic Amy Poehler is turned on. It's her life story, told through a collection of thoughts, lists, haikus, and more… and it will make you laugh and cry. This one includes some content that might be best kept away from the kiddos.
This audiobook features the voice of Academy-Award winning actress Anne Hathaway to tell one of the most classic American tales. It's family-friendly, theatrical, and beautifully done.
Let this cool audiobook sound off next time the minivan is revved up and ready to go. This interactive quiz will challenge different participants aka members of the family to answer questions, both trivia-style and more personal conversation starters. (Nothing too personal, just things like "What superpower would you have?" and such!)
You Are a Badass: How to Stop Doubting Your Greatness and Start Living an Awesome Life authored and narrated by Jen Sincero
Cook up some confidence next time you're on the road with this audiobook and how-to guide that's all about living your best life. The 27 bite-sized chapters are super blunt and will reveal how you can live the type of life you were at one point jealous of. It might have some language that you'd want to keep away from the kiddos.
Harry Potter by J.K. Rowling, narrated by Jim Dale
Yep, this is the one for the ultra-long road trip. Whether you want to listen to one book, or the entire series, it just takes the press of a button to welcome the magic of the wizarding world into the family car. Start a family tradition and turn on Harry Potter for every road trip ahead, there are hours and hours of listening to indulge in.
This article was originally published on